Bali

Click to Call
If you are looking for a destination with incredible natural beauty, fascinating temples, and beautiful sandy beaches, the Indonesian island of Bali will be perfect for you.
Bali offers visitors a diverse travel destination with active holidaymakers enjoying the mountains and historical attractions, while sun-seekers will love the luxury hotels and beaches.
What Sets Bali Apart
With so many excellent and accessible locations available to travelers, it is essential to find the things that set locations apart. Here are some of the top reasons to visit Bali;
Bali events
Throughout the year, you will be able to enjoy a number of great events held by the people of Bali. The great events showcase Balinese culture and cuisine and feature dance performances, sports, and much more, including;
Chinese New Year Celebration
In February, visitors will get to experience the Chinese New Year Celebration and Balingkang Festival, which both celebrate the Chinese new year with stalls, lanterns, dances, and performances.
Nyepi Day
Nyepi Day is worth noting for the celebrations around it. It is the major Balinese religious event that sees the entire population stay in their houses with the Ngurah rai international airport, harbors, and roads closing for the day. Fun events such as the Ogoh-ogoh parade and Megoak Goakan are based around this day.
Ubud Food Festival
Food lovers will love the Ubud Food Festival in April with excellent Indonesian cuisine on offer, as well as performances and events.
Bali Art Festival – Pesta Kesenian Bali
June sees Bali celebrate its largest cultural celebration in Bali Art Festival – Pesta Kesenian Bali. Thousands flock to see the costume parade and other exhibits at the Bali Art Centre.
Uluwatu festivals
Late October sees the Uluwatu festivals featuring DJ and musical performances, cultural shows, and sports competitions.
Bali locations
There are lots of great reasons to visit Bali, and our travel tips will help you discover Bali's rich culture, incredible areas of natural beauty, and great family-friendly beaches.
The Beaches
Bali is home to countless great beaches that are ideal for sun worshippers, families, and water sports enthusiasts. Sanur Beach, Batu Bolong Beach, Kuta Beach, Kelingking Beach, and Amed Beach are some great examples of scuba diving, boat trips, swimming, and miles of golden sand.
Depending on the hotel you are staying at, you might even get to enjoy some of the wonderful private beaches.
West Bali National Park
Visiting the national park gives visitors the opportunity to see rare wildlife, forests, savannahs, and mangroves. There is also an ancient Hindu Temple complex to explore.
Bali Bird Park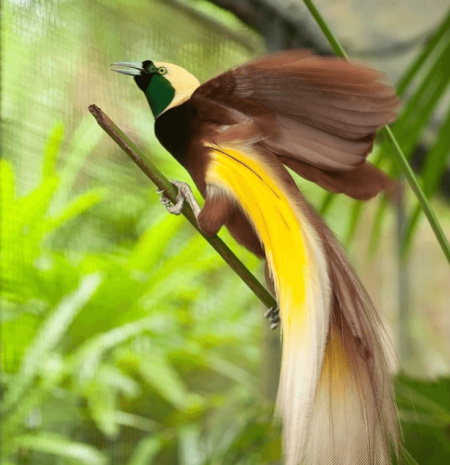 The bird park covers more than 2,000 square meters and has more than 250 species of bird. This is an excellent opportunity to see some of Indonesia's native birds and wonderful for a photo opportunity.
Bali's Central Mountains
Hillwalkers, mountain climbers, and nature lovers will be blown away by the geographical features and scenery of the central mountain range in central Bali. Volcanoes, waterfalls, and gardens can all be found in this incredible location.
Ubud Monkey Forest
Mandala Suci Wenara Wana is very popular among tourists, and the sanctuary is home to over 1,000 monkeys. Booking tours in advance is advisable because of their popularity.
Food & Drink in Bali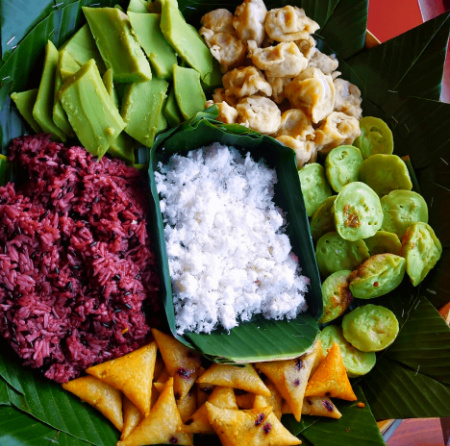 One of the best parts of traveling is discovering amazing restaurants and local cuisine. Indonesian travel offers a great choice, and Bali Island has sumptuous local delicacies, including;
Betutu
This incredible dish typically uses duck or chicken, which is then stuffed with chili, garlic, shallots, and ginger and is steamed for as long as eight hours.
Nasi Goreng
The translation of this dish means fried rice, and it is a simple dish that comes with a fried egg on top and is usually cooked with vegetables or meat.
Mie Goreng
Mie Goreng is similar to nasi goreng but uses noodles instead of rice and is eaten at all times of the day.
Pisang Goreng
Pisang Goreng is a sweet dish of fried bananas served with ice cream, condensed milk, coconut, or honey.
Arak
Arak is a Balinese liquor made from sugarcane. At 70% proof in some cases, it can be a bit strong for some tastes. Other spirits and beers are available, with Bintang Indonesian beer being popular on the island.
Famous Resorts In Bali
Finding the best hotels and resorts in Bali isn't difficult because the island offers so many great options. The examples below boast great reviews and are a great example of why there is mass tourism in southeast Asia.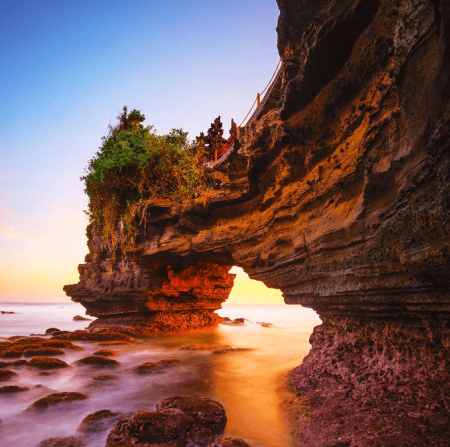 Nusa Dua Beach Hotel and Spa
Located in south Bali, this 5-star resort boasts easy access to Nusa Dua beach, has three outdoor pools, and state-of-the-art facilities.
With four restaurants and four bars, you might find this family-friendly location difficult to leave.
Amnaya Resort Kuta
This four-star, family-friendly hotel offers a lively option in the heart of Kuta. There are lots of tourist-friendly beaches, restaurants, and attractions nearby.
Hanging Gardens of Bali
Those hoping to experience a luxury getaway in Bali, Indonesia, will struggle to find a more picturesque option than this hidden gem.
The five-star hotel is located in the jungle and offers unique and award-winning accommodation. Individual villas offer privacy and luxury to their guests, and the spa and restaurant add a level of luxury that most other resorts can't compete with.
Melia Bali
Melia Bali is a great all-inclusive option for travelers with three bars, five restaurants, and cuisine from all around the world.
An exclusive beach, pool, spa, and tennis courts mean you won't struggle for something to do at this great resort. You will find yourself close to a great selection of beaches and tourist attractions as well.
Grand Mirage Resort & Thalasso Spa - Bali
The Grand Mirage Resort & Thalasso Spa is a beachfront resort that boasts a landscaped, tropical garden, spa, swimming pool, separate kids pool, and kids club.
All-inclusive five-star luxury is provided in the facilities and dining available at this wonderful, family-friendly resort.
FAQs
How safe is Bali to visit?
Bali is one of Southeast Asia's most expensive destinations. Private transport is necessary because of the lack of public transportation, and prices are similar to what you might find back in the US.
Is Bali an expensive destination?
If safety is a priority for your travels, Bali is the perfect destination. As one of Southeast Asia's safest locations for tourists, you will find the people friendly and helpful.
When is the best time to visit Bali?
Bali's dry season is between April and October. October, in particular, can be a great time to travel to Bali as it is not considered peak season, so prices will be lower.
Does Bali have a rainy season?
Yes, Bali's rainy season is between November and March. January is typically the rainiest month, but you can still expect warm temperatures and the occasional sunny day.
Do locals speak English in Bali?
There are two main languages spoken in Bali, which are Balinese and Indonesian. English-speaking tourists will be delighted to find that English is also widely spoken, making it easy to communicate with visitors.
MORE PLACES TO GO ON VACATION
Caribbean and Mexico Destinations
Antigua and Barbuda
Aruba
Bahamas
Barbados
Belize
Bermuda
Bonaire
Cabo San Lucas
Cancun Mexico
Cayman Islands
Costa Rica
Curacao
Dominican Republic
Grenada
Jamaica
Puerto Rico
Puerto Vallarta
St Kitts and Nevis
St Lucia
St Martin
St Thomas Virgin Islands
Turks and Caicos Islands

Pacific Island Destinations
Australia
Bali
Big Island Hawaii
Bora Bora
Fiji
Kauai
Maui
Moorea
New Zealand
Oahu
Tahiti Village
Places to Go on Vacation