Bahamas

Click to Call
When you think of a dream holiday in a tropical paradise, a trip to the Bahamas is probably close to what you expect. While the Bahamas offers visitors an idyllic beach holiday, there is so much more to it than that.
The Bahamas has so much to see and do, and taking advantage of the luxury and all-inclusive resorts means you can do so in comfort.
What Sets The Bahamas Apart
With so many great locations available to visit in the West Indies, it is important to find out what sets the Bahamas apart from its competition.
Bahamas events
If you are planning a visit, it is worthwhile taking the time to explore the great events held around the Bahamas all year round.
Junkanoo
Junkanoo is a colorful and lively street parade and party held between Boxing Day and New Year. Loud music, colorful costumes, and energetic dancing make this a must. Smaller Junaknoo festivals are also held in June and July.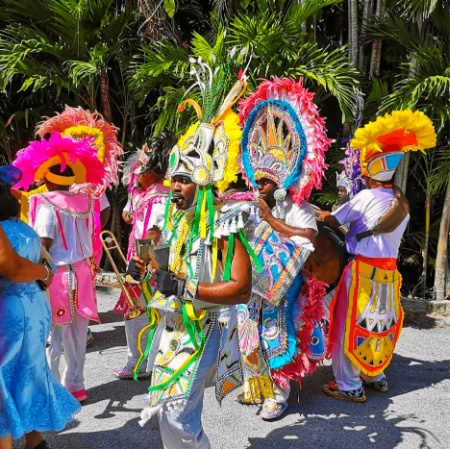 Independence Day
Bahamian Independence Day takes place on July 10th, and festivities include parades, fireworks, and much more. The parties take place all over, especially in Freeport, Nassau, and Paradise Island.
Bahamian Music and Heritage Festival
This cultural event takes place on Exuma Island in February and features musicians, singers, storytellers, and arts and crafts.
Bahamas locations
The Bahamas has a long list of excellent locations to visit. With so many options, it is the ideal location for a family holiday, romantic getaway, or relaxing break.
Atlantis Paradise Island
Atlantis Paradise Island has it all for guests and visitors. This luxury hotel resort is also home to a water park, aquarium, and entertainment complex.
You will be able to spend a full day enjoying the incredible Aquaventure park or watching sharks swim in open-air tanks. There is an excellent choice of shops and restaurants as well.
Nassau
Nassau is a popular port that attracts lots of tourists. Don't let that put you off, though, and there are lots of great shopping opportunities, the white sand beach of Cable Beach, and the option of a short trip to Blue Lagoon Island, where you can visit the conservation center gardens and zoo.
Exuma Cays Land and Sea Park
Blue sea and white sands converge to produce an area of incredible natural beauty. Boat trips are excellent here, and visitors will be able to enjoy diving and snorkeling in the crystal clear waters.
You will also have the opportunity to get up close with the famous swimming pigs of Staniel Cay.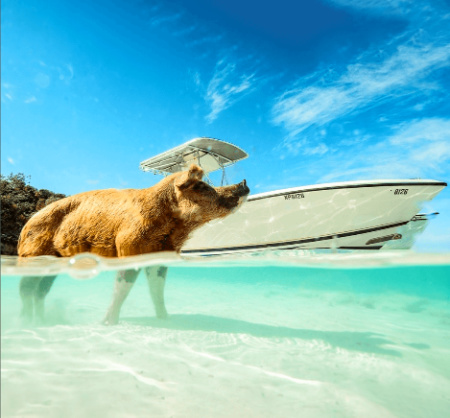 Food & Drink In The Bahamas
You will be able to sample an excellent choice of local cuisine and drinks from the excellent restaurants and bars.
Conch
The conch is the Bahamian national food that is prepared in a number of ways. Conch salad and conch chowder are popular ways to eat it.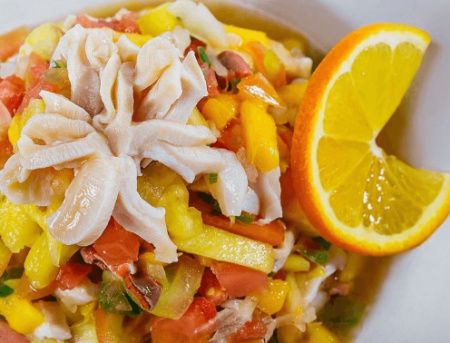 Seafood
As well as conch, other seafood is common on this island nation's menu, with lobster, crayfish, and fish being freshly prepared.
Peas 'n' Rice
You will likely find peas 'n' rice accompanying many dishes in the Bahamas, and it is often livened up with a bit of hot sauce.
Johnnycakes
Johnnycakes are a simple bread dish made with milk, flour, butter, baking powder, salt, and sugar before pan-cooking.
Rum
Despite not originating in the Bahamas, Rum is widely recognized as their national alcoholic drink of choice. The Bahama Mama is a cocktail that contains rum, citrus juice, grenadine, creme de cassis, bitters, and nutmeg.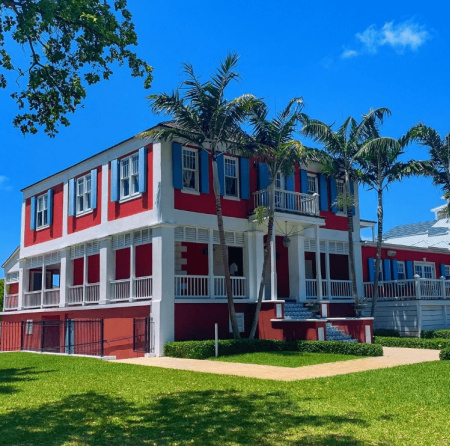 Famous Resorts In The Bahamas
Choosing accommodation will only be a challenge because of the choices with great hotels boasting on-site restaurants, white sandy beaches, swimming pools, tennis courts, room service, breathtaking views, and lots of other amenities.
You will be able to choose from villas, ocean view rooms, and luxury penthouses to create the dream vacation.
Finding luxury, all-inclusive resorts in the Bahamas is relatively straightforward, with a wide range of options, including;
Hotel Riu Palace Paradise Island
The Hotel Riu Palace on Paradise Island is an award-winning beachside resort that offers guests a selection of restaurants and a swimming pool with a swim-up bar.
This is one of the best all-inclusive resorts that offer an adults-only location for people to relax and enjoy the beautiful sunshine on this offshore island.
Grand Isle Resort
Grand Isle Resort overlooks Emerald bay, its blue waters, and white sands. Spacious villas and penthouses await guests who will be able to have meals delivered by top-quality chefs to enjoy on private balconies.
Great Exuma excursions are available to enjoy watersports, boat trips, and exploring the beautiful area.
The Seastar Spa is perfect for adults to pamper themselves, while family fun is guaranteed at the Hummingbird Hut playgroup.
Sandyport Beach Resort
Just a short trip from Nassau Airport, this beachfront resort offers its guests an unforgettable experience. Enjoy the secluded, private beach area that is perfect for sunbathing or relaxing in a hammock in the shade of a palm tree.
A selection of restaurants and bars will provide excellent cuisine and refreshments, and the outdoor swimming pool is perfect for cooling off and enjoying a dip.
Warwick, Paradise Island
The Warwick Paradise Island is an excellent all-inclusive resort in Nassau that overlooks the harbor and boasts a swimming pool and private beach area.
The friendly staff makes sure you are entertained with activities and games always an option, or you will be able to relax poolside or in the state-of-the-art spa.
Small Hope Bay Lodge
Located on the beautiful Andros Island, this incredible option offers guests a way to enjoy an eco-friendly, all-inclusive vacation that is perfect for groups, families, and couples.
Beachside rustic cabins, diving, nature tours, and incredible fresh cuisine make this a holiday you will never forget.
FAQs
What language is spoken in the Bahamas?
English is the first language in the Bahamas which is great news for English-speaking tourists. There is a Bahamian dialect that can be useful to research before visiting.
Is the Bahamas safe to travel to?
Violent crime can happen in the Bahamas, but many resorts will be guarded and gated to offer protection to guests. There is a risk of crime anywhere you go, but the more remote Bahamian islands have a lot less risk.
Can I use US Dollars in the Bahamas?
You can use the US dollar in the Bahamas as they are as widely accepted as Bahamian dollars. US Dollars and Bahamian dollars are equal in value, making price conversions unnecessary and transactions simple.
Can you drink tap water in the Bahamas?
You can drink tap water in the Bahamas, but it can leave a bit of an aftertaste. Sticking to a bottled water might be advisable for anyone that has a sensitive stomach, but it is generally fine.
What is the legal drinking age in the Bahamas?
The legal drinking age is 18 in the Bahamas. Even visitors from the US can drink at this age. You will not be able to purchase alcohol on a Sunday, though.
MORE PLACES TO GO ON VACATION
Caribbean and Mexico Destinations
Antigua and Barbuda
Aruba
Bahamas
Barbados
Belize
Bermuda
Bonaire
Cabo San Lucas
Cancun Mexico
Cayman Islands
Costa Rica
Curacao
Dominican Republic
Grenada
Jamaica
Puerto Rico
Puerto Vallarta
St Kitts and Nevis
St Lucia
St Martin
St Thomas Virgin Islands
Turks and Caicos Islands

Pacific Island Destinations
Australia
Bali
Big Island Hawaii
Bora Bora
Fiji
Kauai
Maui
Moorea
New Zealand
Oahu
Tahiti Village
Places to Go on Vacation