Barbados

Click to Call
Barbados is one of the most popular holiday destinations in the Caribbean islands, thanks to its great weather, beautiful beaches, and friendly people.
This article will explain why Barbados is such a popular vacation destination and what sets it apart from other options.
What Sets Barbados Apart
Barbados has a lot going for it. The following events, locations, and cuisine is just the tip of the iceberg.
Barbados Events
Planning your trip to Barbados to coincide with one of that many great events throughout the year will make your vacation even more unforgettable.
Crop Over
The end of sugar cane season is celebrated with a number of great events over July and August. You can expect music, fireworks, food, arts, and crafts at this wonderful event at Brighton Beach.
Barbados Food and Rum Festival
The Barbados Food and Rum Festival is a celebration of Barbadian cuisine and sees some of the country's top chefs provide demonstrations.
Agrofest
Agrofest is an agricultural exhibition that is held in the capital city of Bridgetown. Spread across three days, visitors have the opportunity to enjoy displays and buy goods from craftsmen, farmers, and agriculturalists.
Barbados Locations
Discovering the great locations and attractions in Barbados is one of the things that sets this wonderful island country apart from other countries.
Beaches
There are lots of great beaches where tourists will be able to enjoy the sun, sea, and brilliant atmosphere. Carlisle Bay, Bridgetown has a number of excellent options, including Pebble Beach, Bayshore Beach, and Brownes Beach.
Bathsheba Bay is another great option with breathtaking views and areas of natural beauty.
Other excellent beaches that should be explored include Crane Beach, Bottom Bay Beach, and Rockley Beach, which is perfect for families.
Downtown Bridgetown
The capital is an excellent city to visit for those that want to enjoy historic architecture and culture. There are great shops to visit, as well as wonderful restaurants and bars too.
Places of interest include the Baobab tree in Queen's Park, which is over 1,000 years old, St Michael's Cathedral, Parliament Buildings, and Chamberlain Bridge.
Historic Bridgetown and the Garrison are Unesco world heritage sites. They achieved Unesco world heritage site status in 2011 because of their historical significance.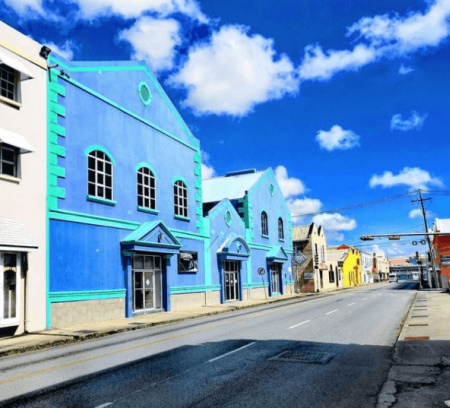 Barbados Wildlife Reserve
The Barbados Wildlife Reserve is a great opportunity for tourists to see some of the country's best wildlife in a safe setting. Monkeys, tortoises, snakes, parrots, and other great animals can all be viewed here.
Food & Drink in Barbados
Having the opportunity to sample Barbadian cuisine is another benefit of visiting this wonderful location. Here are some of the best dishes to try;
Flying fish and cou cou
Flying fish and Cou Cou is a traditional Bajan dish of freshly caught flying fish that is seasoned and steamed or fried. Cou Cou is made from okra and cornmeal.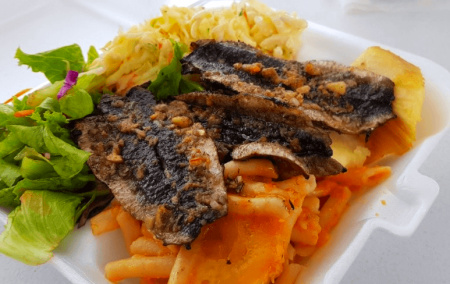 Conkies
People with a sweet tooth will love this delicious yet healthy option made from pumpkins, raisins, coconut, can sugar, and corn flour. It is cooked by being steamed in a banana leaf.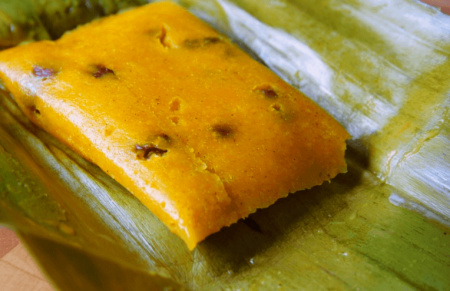 Black Cake
Black cake is made using dried cherries, raisins, prunes, and rum. It is another great dessert that makes use of the national drink.
Rum
ESAF White is made in Barbados and is the most popular rum on the island. It is said that it doesn't typically cause hangovers, but you might want to drink in moderation anyway.
Famous Resorts In Barbados
Finding high-quality, all-inclusive resorts in Barbados is relatively straightforward. There is a great choice, and there is something for everyone from families to couples and groups.
Sandals Royal Barbados
The Sandals Royal Barbados is a five-star, all-inclusive resort that exudes quality and class.
There is a great choice of accommodation, including the incredible Skypool suites, Millionaire Suites, and swim-up suites.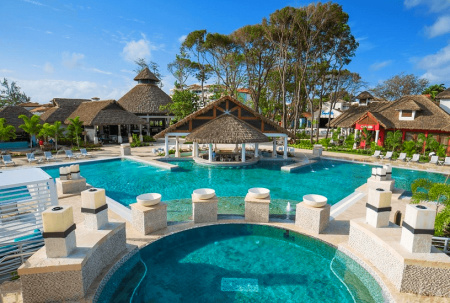 The adult-only resort boasts a state-of-the-art spa for relaxing and rejuvenating treatments, and there are nine world-class restaurants to choose from.
Take advantage of the four-lane bowling alley, scuba diving opportunities, and programs along the nearby reefs.
Barbados Sandals has a superb location and is a short transfer away from Grantley Adams International Airport, making it an excellent choice for international visitors.
The Crane Resort
The Crane Resort is a great option that offers guests their own private plunge pools. There are also lighted pools and an adults-only pool, which makes relaxing in the water easy.
The marvelous location overlooks Crane Bay and the ocean, and guests will love the excellent dining options.
The rooms are decorated in a traditional 19th-century style and come with marble bathrooms, four poster beds, and whirlpool tubs.
Waves Hotel & Spa, Saint James
Waves Hotel & Spa, Saint James, offers an all-inclusive package in a beautiful and relaxing location.
The package even includes a complimentary spa treatment to pamper guests, and the excellent dining facilities provide a great choice.
The resort boasts a number of fitness classes and a packed calendar with lots of activities. Take to the water with the Waves Hotel and Spa's complimentary water sports such as water skiing, snorkeling, tube rides, paddle boarding, and more.
Sugar Bay Barbados
Sugar Bay Barbados is located near to Bridgetown on Drill Hall Beach.
You will enjoy easy access to the wonderful white sand beach and crystal clear ocean.
Unlike previous options, kids are welcome at Sugar Bay Barbados, and there are children and teens clubs to help keep them entertained.
The excellent location makes it easy to enjoy the great restaurants, shops, bars, and nightlife of Bridgetown or relax in the tranquil beachside setting.
With four on-site restaurants, every taste is catered to, and the Karma Spa is the perfect way to relax and enjoy your holiday.
The resort has a number of great swimming pools, and you will even be able to enjoy the swim-up bar for refreshments. Head out to the beach to enjoy watersports with kayaking, snorkeling, and boogie boarding equipment available to rent.
The hotel is just a short drive from the Barbados Golf Club on the south coast of the Caribbean island.
FAQs
Is Barbados safe to visit?
As with most Caribbean countries, there is a risk of violent crime or theft, but the risk is not massive for tourists. Resorts will be safe for guests, and displaying caution when out in public should minimize any risk.
What language is spoken in Barbados?
English is the main language spoken in Barbados, with many locals speaking Bajan. Bajan is an English-based creole language. English-speaking tourists will find it easy to communicate with locals without a language barrier.
What currency is used in Barbados?
Barbados uses the Bajan Dollar as its currency. The Exchange rate is around 2 Bajan Dollars per 1 USD.
When is the best time to visit Barbados?
Barbados is great to visit all year round, with excellent weather and fun events spaced throughout. The dry season is between December and April, so this is typically the most popular time to visit.
Is it true you can't wear camouflage in Barbados?
It is illegal to wear camouflage in Barbados as they do not want any confusion surrounding the military.
MORE PLACES TO GO ON VACATION
Caribbean and Mexico Destinations
Antigua and Barbuda
Aruba
Bahamas
Barbados
Belize
Bermuda
Bonaire
Cabo San Lucas
Cancun Mexico
Cayman Islands
Costa Rica
Curacao
Dominican Republic
Grenada
Jamaica
Puerto Rico
Puerto Vallarta
St Kitts and Nevis
St Lucia
St Martin
St Thomas Virgin Islands
Turks and Caicos Islands

Pacific Island Destinations
Australia
Bali
Big Island Hawaii
Bora Bora
Fiji
Kauai
Maui
Moorea
New Zealand
Oahu
Tahiti Village
Places to Go on Vacation