Universal Orlando, Islands of Adventure

Click to Call
It is finally time for that much-needed, entertaining, fun-filled vacation for the whole family to the destination of a lifetime: Islands of Adventure, Orlando, Florida. With main attractions like Hogsmeade, the Wizarding World, and the special night performance of Frog Chair, this trip will blow your mind and your hair (with thrilling rides) and exceed your wildest dreams!
Universal's Islands of Adventure Orlando has proudly held the title of the No. 1 Amusement Park in the world for 4 years, as voted by TripAdvisor® Travellers' Choice from 2015 to 2019. Established in 1999, it is the biggest of the Universal parks, around rides and experiences, in comparison to Universal studios, themed for movies and shows.
Seven Seas Travel has included all the need-to-know information on Universal's Islands of Adventure Orlando offerings right here, allowing you to plan your trip, explore the theme park restaurants and delectable dining options, rides, entertainment, shows, shopping, events, attractions, resorts, and accommodation.
Why Choose Islands of Adventure?
With 19 Islands of Adventure rides, there is no better place for the family than this spectacular park, gloriously themed around mystical worlds, transporting you into adventure and experiences from start to finish.
Strap yourself in for the ride of your life and start your exhilarating Islands of Adventure Orlando journey now!
Universal's Islands of Adventure is one of three thrilling theme parks in Universal Orlando, with Universal Studios Florida and Universal's Volcano Bay completing the trilogy of formidable adventures. What are you waiting for? Book your dates now!
What to Do: Rides and Attractions
Amazing adventure and thrilling attractions await visitors of any age at the Islands of Adventure theme park in Orlando. Famous adrenalin-infusing ride attractions, roller-coaster action, water rides, interactive shooting games, shows, entertainment, and magic for the imagination, guarantee fun for kids and adults to explore, discover and enjoy on your vacation.
Marvel Super Hero Island
Explore the action and Adventures of Spider-Man, save the world with Captain America, or dare to join forces with the legendary Marvel characters. Dare brave The Incredible Hulk roller coaster reaching speeds of 60 mph in the first two seconds!
Doctor Doom's Fearful is a drop tower roller coaster attraction with a vertical drop at 150 feet, and The Amazing Adventures of Spider-Man ride is a 3D experience with all the Spidey jumps, leaps, and even a 400 ft fall one can expect of a superhero. The Adventures of Spider-Man is a visual delight guaranteed to inspire the superhero in you.
Toon Lagoon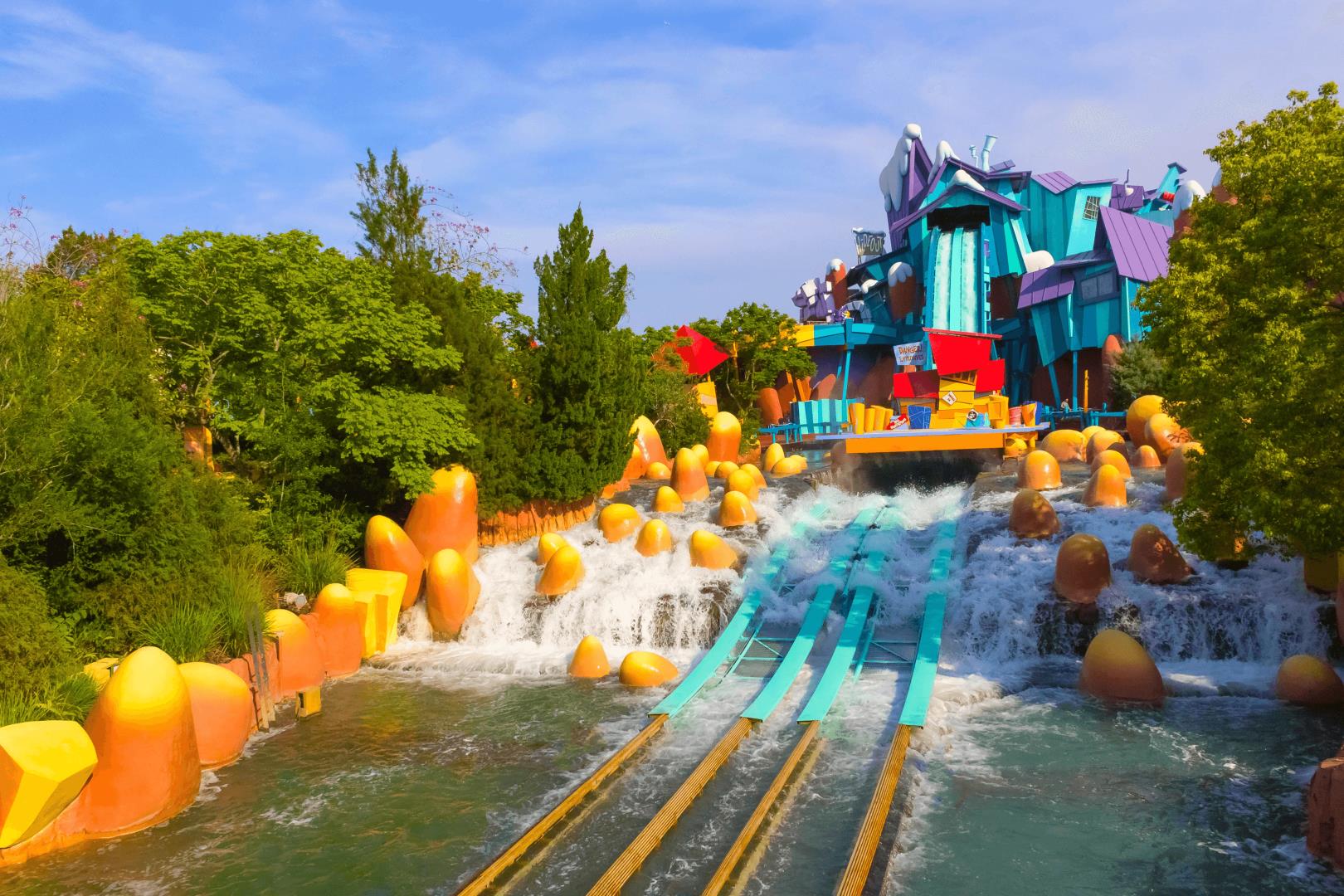 Make sure you pack your poncho or raincoat when embarking on the famously fun water rides Dudley Do-Right's Ripsaw Falls and Popeye & Bluto's Bilge-Rat Barges.
Skull Island
Skull Island offers visitors an unbelievably immersive experience in the jungle under the reign of the impressively intimidating ape King: Kong. Skull Island: Reign of Kong is the most unexpected thrill which will keep you on the edge of your seat throughout the jungle exploration journey.
Jurassic Park World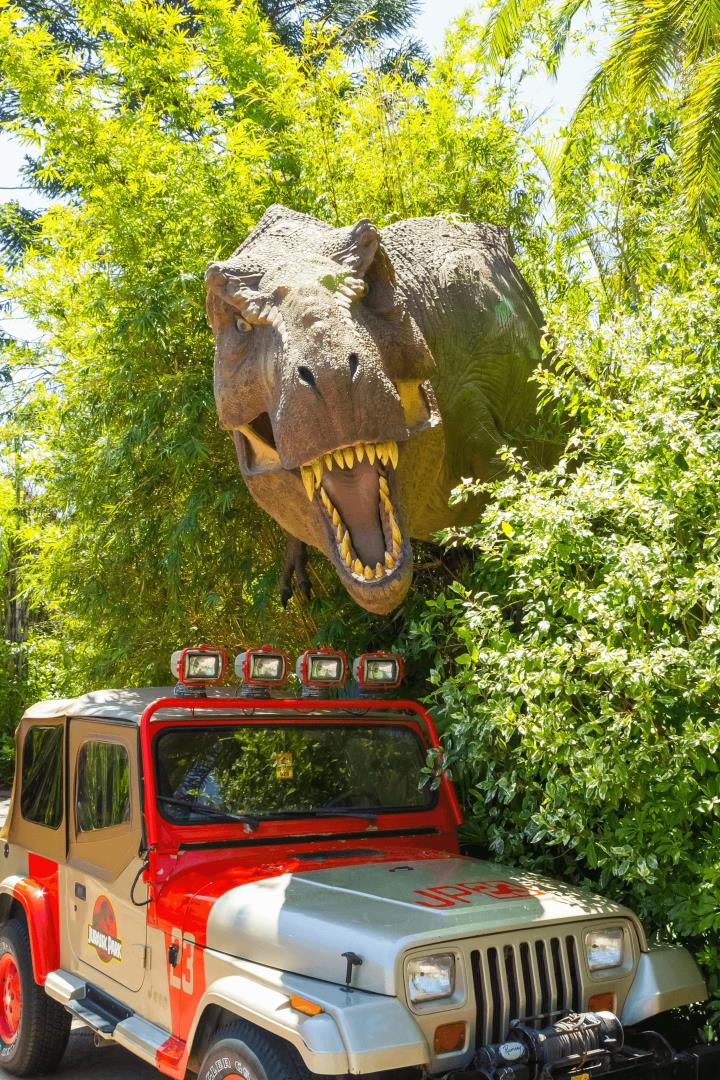 A bucket list must-visit, so arrange early park admission! Home to possibly the best ride at the Islands of Adventure theme park, the Jurassic World VelociCoaster will leave you gasping for breath! High speeds and rapid drops guarantee an unforgettable adventure making the long lines worth the wait.
The Jurassic Park River Adventure ride transports you into a historical world roamed by creatures only ever seen in books or films.
The Jurassic Park Discovery Center features a mini natural history exhibit, which is a great attraction complimenting the Jurassic Park-themed rides and section of the park.
Suess Landing
This part of the park is a colorful creation catering for the little ones and aimed at the youngest Universal guests, with The Cat in the Hat attraction and The High in the Sky Seuss Trolley Train Ride!
The Lost Continent
The Lost Continent is home to Poseidon's Fury. This incredibly well-themed walking tour based on the Greed god of the seas takes you into the ancient Temple of Poseidon with live actors performing a fantastic special effects show.
This attraction has recently reopened after an extended refurbishment and is immensely well-designed.
Hogsmeade and the Wizarding World of Harry Potter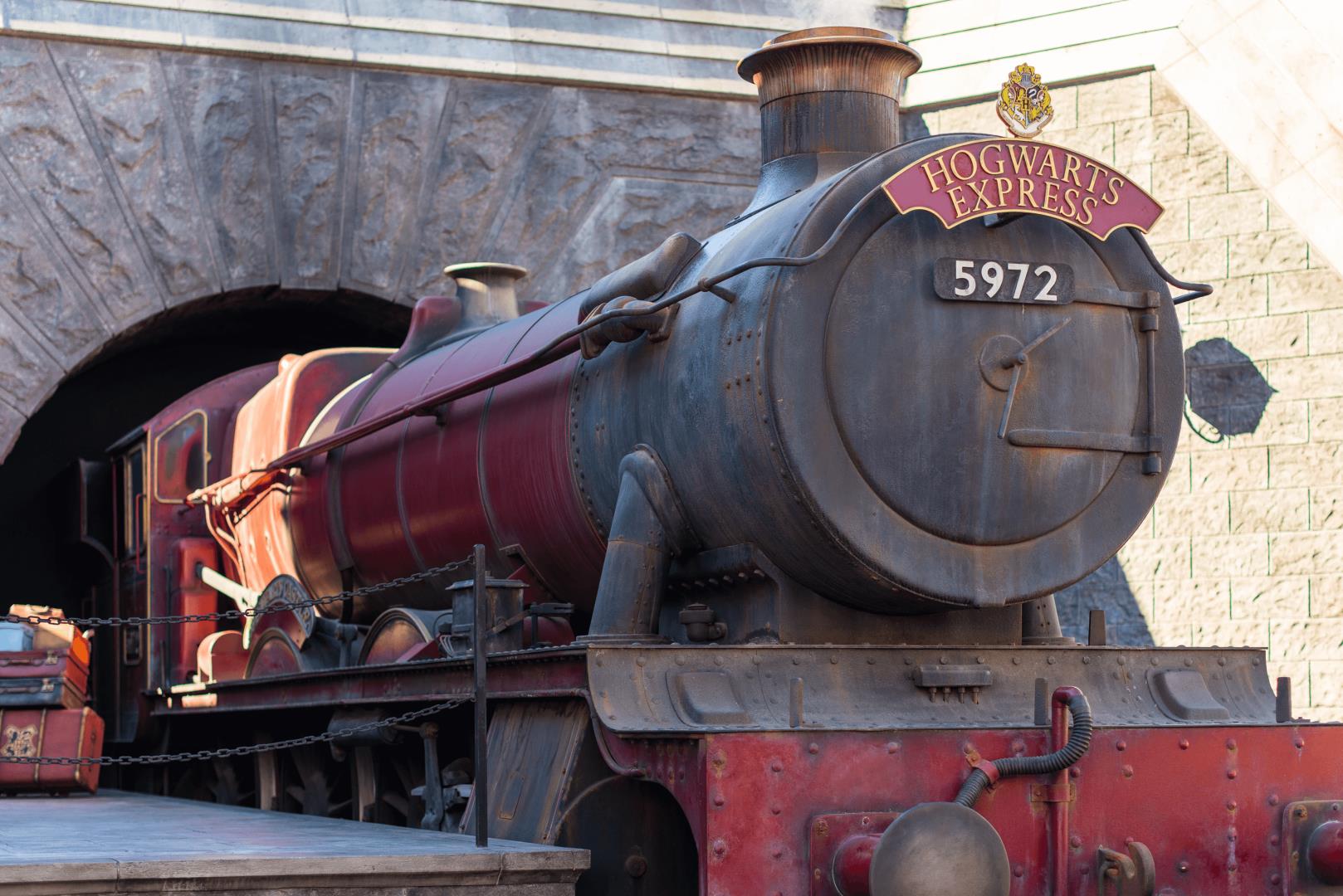 For all the Wizarding World and Harry Potter fans, this is the main event and destination. All aboard the Hogwarts Express! The Wizarding World of Harry Potter features two parts, one in Islands of Adventure - Hogsmeade and one in Universal Studios Orlando Diagon Alley.
The Hogwarts Express at Hogsmeade station connects the two parks housing the World of Harry Potter, allowing Harry Potter fans to experience all the Hogwarts entertainment.
A simple broom ride away, the Hogwarts Express allows you to travel between the Wizarding World of Harry Potter and Diagon Alley.
With rides like Hagrid's Magical Creatures, Motorbike Adventure, and Harry Potter and the Forbidden Journey, everyone is jumping onto the Hogwarts Express, making the Wizarding World the most visited in the theme park.
TIP: Download the Universal Orlando Mobile App when planning your next vacation; Universal Studios packages and tickets are easily accessible on the App, with early and park admission options.
What to See: Shops and Entertainment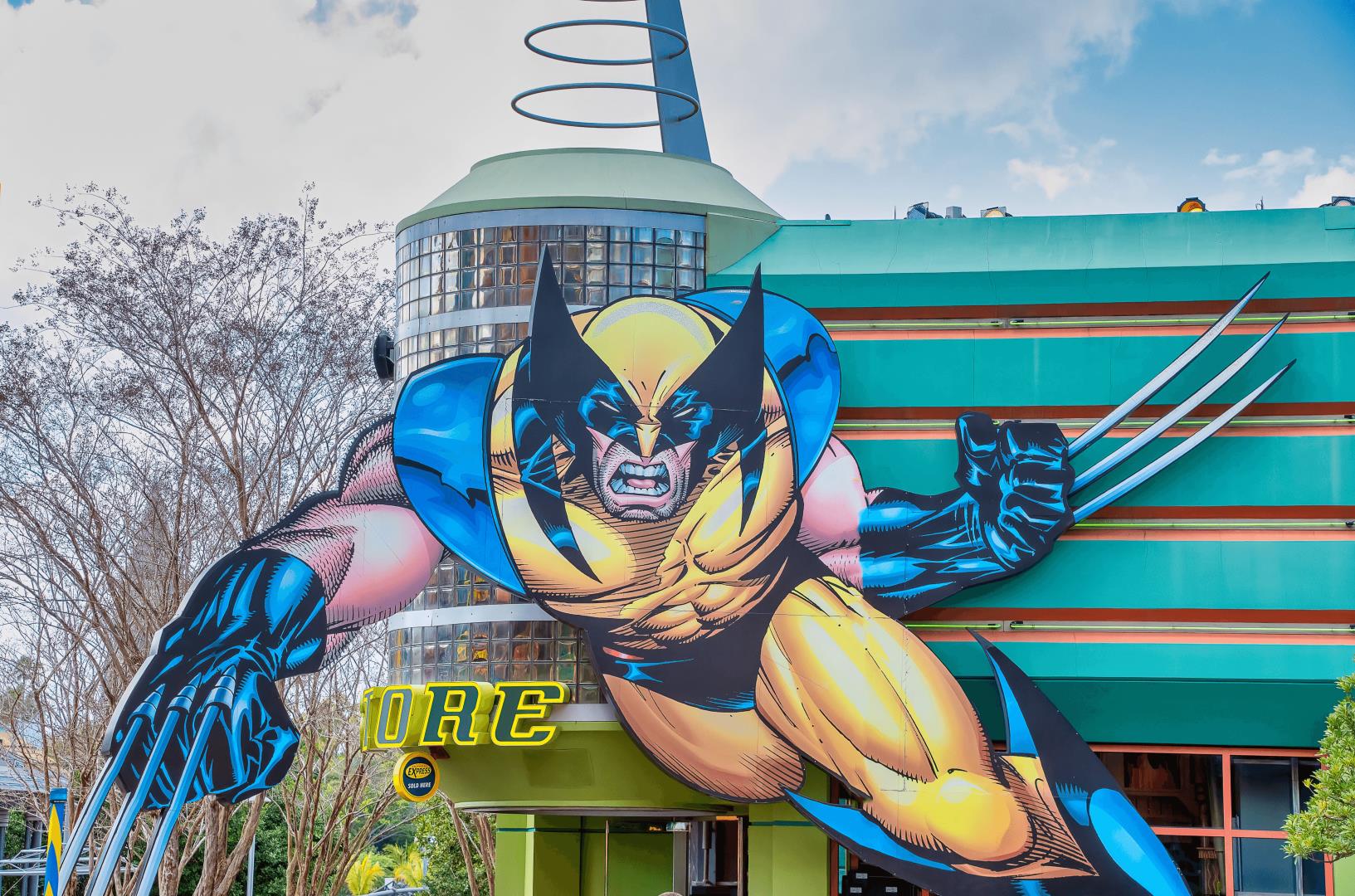 Orlando Theme parks mean memorable gifts and goodies await you in the shops, and strolling through the stores feels like one is being whisked away into a wonderful world of fantasy! After stomach-dropping rides in the park, spoil yourself and shop till you drop in the array of stores.
Say hello to the girly glamour of absolutely everything cute in the Hello Kitty Shoppe and embrace your inner child in Super Silly Store. Weasley's Wizarding Wheezes will wow you.
The SpongeBob Storepants will put the sunshine in your step, with the chance to meet your all-time favorite yellow square character, Mr. SpongeBob, and some of his friends.
Islands of Adventure is a family destination, and in addition to the action-packed ride options, the whole family can enjoy shows and exciting plays throughout the day.
Where to Eat: Best Islands of Adventure Restaurants
With an array of dining choices, your Universal Orlando trip will undoubtedly satisfy the tastebuds and tummy. There are more than twenty options, with some favorites listed here.
The Croissant Moon Bakery
Located at the Port of Entry walkway to the park and is the perfect stop for a quick breakfast and coffee. It has a fresh selection of croissants, sandwiches, salads, pastries, milkshakes, and a variety of delicious desserts for those with a sweet tooth.
With an outside shaded seating area and quick service, it is the best value choice for light eating and a light budget.
The Thunder Falls Terrace
This divine dining attraction overlooks the Thunder Falls ride attraction and has superb views of the Thunder Falls attraction cascading over the restaurant. It is located close to the Jurassic Park River Adventure section, with Barbeque cuisine, has a relaxing atmosphere, and offers indoor as well as outdoor seating with a splash zone to entertain the kids.
The Three Broomsticks
An absolute must and any Harry Potter fan's dream. Located in Hogsmeade and decorated as the famous Three Broomsticks Inn from the Harry Potter series of movies and books, the dark wooden interior with open weather wood beams, towering balconies, and cast-iron chandeliers immediately ignite your adventure senses to medieval wizarding worlds.
Confisco Grille
The name Confico means "confiscated" in Portuguese. This hot eating spot's decor theme is inspired by island treasures confiscated for visual display. The easy-going atmosphere reflects the eclectic nature of the Ports of Entry, reminding you of a place of gathering for explorers, travelers, and merchants from around the world.
With Asian, Mexican, Mediterranean, and Greek dish-inspired cuisine table service, the menu is diverse, and to add to the adventure, it has an adjoining full-service bar called the Backwater Bar.
Mythos Restaurant
A Greek mythology-themed Restaurant with Mediterranean, Asian and American cuisine, located in the Last Continent section. The exterior displays towering rock formations, cascading waterfalls, ancient figures carved into the side rock display, and an interior with a river running through the middle.
Mythos is an attraction and adventure on its own, and visitors have praised the establishment for its visual appeal and enjoyable ambiance.
The CityWalk
The Epicenter of Awesome with 11 sit-down restaurants, a food court, and quick service available, ranging from burgers to sushi. CityWalk is located in the center of (in between) Universal Studios and Islands of Adventure parks.
Park admission allows you to exit and re-enter either of the parks for a bite to eat or some shopping on the CityWalk.
Where to Stay: Best Places
What better way to wind down than to stay at one of the Universal Orlando Resort hotels to continue the Islands of Adventure experience long after the theme park has closed?
There are eight awe-inspiring, fun facilities with all-inclusive packages and park admission available at:
Described as an Exotic South Seas Paradise, this exclusive Universal Resort is the ultimate destination to retreat to after the excitement of theme park excursions and longer!
The crystal blue pool and white sandy beach give a tropical island feel while relaxing under the cool shades of beautiful palm trees.
As a Universal Orlando hotel guest with theme park admission tickets, your island resort visit includes a free Universal Express Unlimited pass. Make more time for island-style relaxation by skipping the lines at selected rides at both the Islands of Adventure and Universal Studios.
Let's rock your world with upmarket vibes, tasty food, underwater and live music performances, pool lounging, exotic cocktails, and electricity tangible in the air.
Get treated like the rockstar you are by getting a free Universal Express Unlimited Pass as a Universal Orlando Hard Rock guest, instantly making you feel like a VIP by skipping the lines at selected rides at both the Islands of Adventure and Universal Studios.
The options are endless, as is the sunny weather at Universal's Endless Summer Resort, and picking where to place your pillow and dream about another exciting, fun-filled theme park day adventure, Universal Orlando Resort offers prices and packages to match every pocket at their range of unique themed hotels:
Frequently Asked Questions
Is Universal Studios or Island of Adventure better?
Both are phenomenal experiences in their own way. Islands of Adventure is focused on adventure rides and themed shows, catering to the whole family, and is more child friendly. Universal Studios have a teen and young adult culture, with more shows than rides.
Which are bigger, Universal Studios or Islands of Adventure?
Islands of adventure is bigger, with 108 acres, established in 1999, with Universal Studios being 108 acres built in 1990.
What park is Harry Potter World in?
The Wizarding World of Harry Potter features two parts, one in Islands of Adventure - Hogsmeade, and one in Universal Studios Orlando - Diagon Alley.
Which Harry Potter is better, Islands of Adventure or Universal Studios?
The Wizarding World of Harry Potter is made up of Hogsmeade in Islands of Adventure and Diagon Alley in Universal Studios. Depending on if your preference is to go on a ride, then Hogsmeade in Islands of Adventure wins with three rides, to Universal Studios with only one.
If experience, shopping, and shows are more important to you, then Diagon Alley in Universal Studios trumps. Neither of these will disappoint, and selecting one would be wizardry in itself.
What are the park's operating hours?
Universal Studios Florida™ and Universal's Islands of Adventure™ are open 365 days a year. Operating hours normally begin at 9:00 a.m., and closing times vary.
Final Thoughts
The Universal Orlando theme parks are glorious in design, theme, experience, attractions, entertainment, dining and cuisine, and shows. Visiting the Islands of Adventure in Orlando will be the best decision you ever make and the wildest ride you ever embark upon.
Source Listings:
https://www.universalorlando.c,om/web/en/us/theme-parks/islands-of-adventure
https://www.universalorlando.com/web/en/us/landing-page/mobile-app
https://www.travelwith-us.com/
https://www.universalorlando.com/web/en/us/search-results/filtered?attraction_experience=dining&attraction_location=ioa&attraction_interest=
https://drive.google.com/drive/folders/1_DqG6IQvqmXwSSxxCGAjW_mzMUxN04Xz?usp=sharing
https://www.universalorlando.com/web/en/us/things-to-do/rides-attractions/harry-potter-and-the-forbidden-journey
https://www.universalorlando.com/web/en/us/things-to-do/rides-attractions/hogwarts-express-hogsmeade-station
https://www.universalorlando.com/web/en/us/things-to-do/rides-attractions/harry-potter-and-the-forbidden-journey
https://www.universalorlando.com/web-store/en/us/park-tickets?days=2&adults=2&children=0&flr=0