Puerta Vallarta, Mexico

Click to Call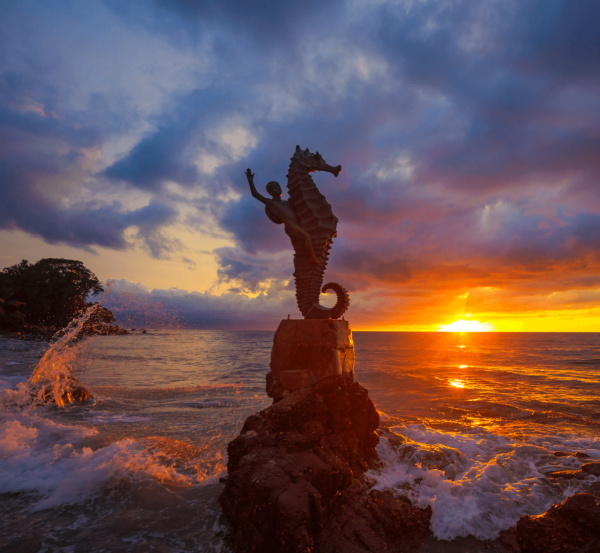 Puerto Vallarta, Mexico, is a dream paradise for beach lovers.
It has all the water sports, nature, all-inclusive resorts, and unique restaurants that anyone could ever want.
The options are endless, so it's easy to see why this is a must-visit destination.
So, pack in your sunnies and sunscreen as we explore everything this exquisite paradise has to offer.
All About Puerto Vallarta
Puerto Vallarta is located in Mexico. The resort town is situated on the Pacific Coast in Jalisco state and is very popular among American tourists because it's only a three-hour flight from LA. Instead of spending that time stuck in traffic in American cities, you can be in a beach paradise sipping on a stunning cocktail with your feet in the sand.
The resort town of Puerto Vallarta has some amazing all-inclusive resorts to make your trip more memorable (and still affordable).
Puerto Vallarta Weather
The weather in Puerto Vallarta varies throughout the year.
From January to May, the average temperature is between 61.3°F-87.8°F.

From June to November, you'll find temperatures between 73°F-92.5°F.
Things start to cool off in December, with temperatures between 64°F-85°F.
We recommend you look at the rain forecasts when planning your trip, as the higher temperatures will bring the rain, with July, August, and September having heavier rainfall.
The best time to travel to the area is between April and June, as there is lower rainfall and less of a crowd as it is outside of peak season.
Things To Do In Puerto Vallarta
There are heaps of exciting activities to try when visiting this beautiful destination:
Take a tour of Parroquia de Nuestra Señora de Guadalupe, a historic cathedral.

Enjoy a show at Act2PV, a massive entertainment venue with up to six different shows a night.

Take a stroll along the famous Malecón Boardwalk.
You can explore the region with a guide or grab a map and navigate your way from attraction to attraction.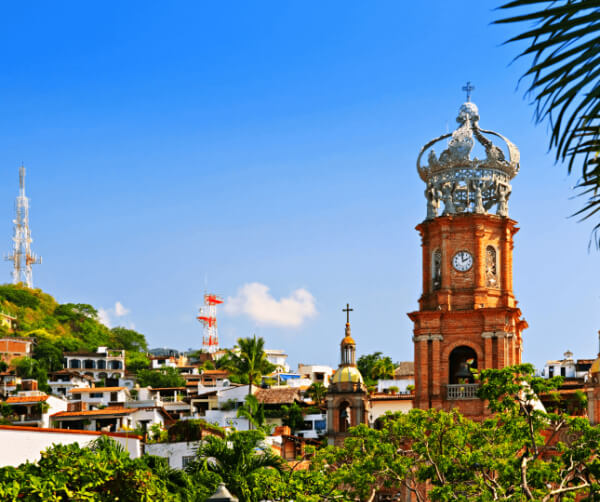 Where To Stay In Puerto Vallarta
Let's look at some of the Puerto Vallarta all-inclusive resorts available.
This all-inclusive resort is on the South Shore, close to the beach and airport and super convenient for travelers.
It is home to the stunning Playa Estaca beach and boasts a great beach bar and swim-up pool bar.
You can relax in the beach cabanas or on the sun loungers while drinking in the fantastic view of the ocean.
If you're feeling peckish, you have five onsite restaurants to choose from, including a full breakfast buffet to ensure you'll have all the energy you need to explore. After that, why not enjoy a full spa experience at the Vita Mar Spa?
Once you're done relaxing, you can turn up the heat in the onsite gym.
If you're into the adventure side of things, you can enjoy a long kayak in the ocean or pump up your arms with some beach volleyball.
Are you traveling with kids? No problem - there is a kid's pool alongside the five outdoor swimming pools.
There are over 300 rooms to choose from, each with air conditioning, daily housekeeping, and rainfall showers to give you a good and comfortable stay.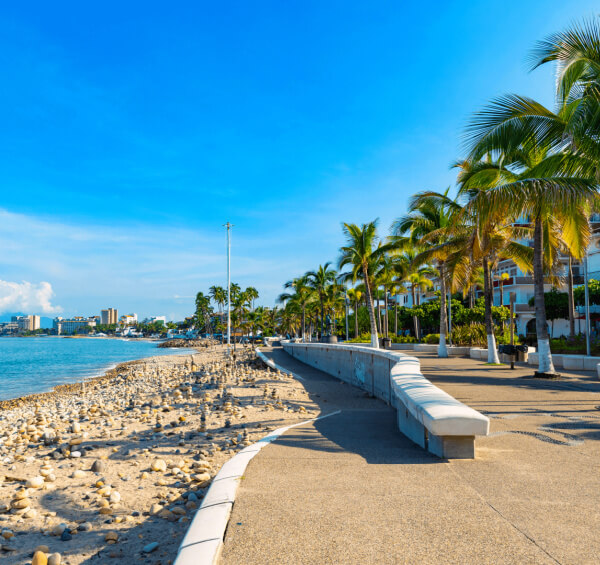 Located in the South Shore area, the Hilton Vallarta Riviera All-Inclusive Resort is a beach lover's paradise.
Situated on the beach, you can enjoy a variety of watersports or sip on a stunning cocktail while relaxing on the sun loungers.
There are ample ways to get your cocktail on, with a beach bar, swim-up pool bar, and regular pool bar. All drinks are included throughout the resort.
Don't forget the delectable food you can enjoy at any of the eight dining options, including a seafood restaurant and grill.
If you'd prefer to stay indoors with takeout, the 24-hour room service is ready and waiting. If you do head out, then be sure to enjoy the generous buffet breakfast served daily.
Yoga, music, cultural activities, and entertainment are all part of the daily events at this amazing resort.
The kids club is a great addition, so mom and dad can truly relax in style. The club is available to children between the ages of four to twelve, and there's also a teen club for older kids.
If you want an adult-only experience, there are adult-only areas with rooms, pools, jacuzzis, and a Sky Bar.
If you're looking for relaxation, the spa should be top of your list of activities. The fitness center is also great with classes like yoga.
There are over 400 rooms that boast fabulous beach views, air conditioning, and daily housekeeping.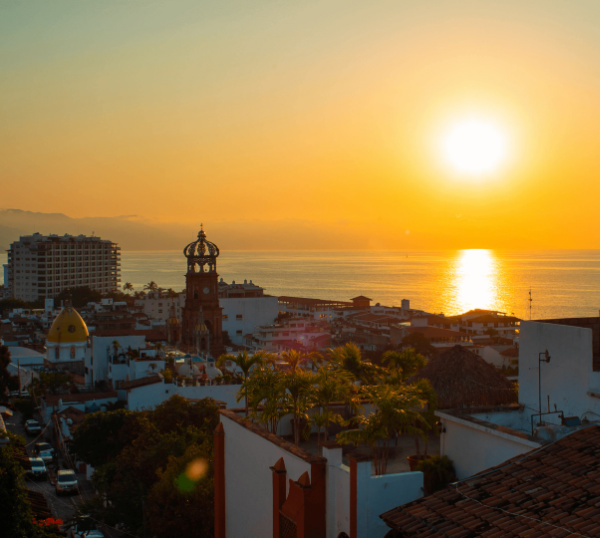 Puerto Vallarta Restaurants
Puerto Vallarta has a massive array of restaurants all over the area. Whether you want an authentic Mexican experience or a family-friendly environment, Puerto Vallarta has you covered.
Makai Restaurant
Located opposite La Lancha beach, this dining gem has some exceptional cuisine that is a must-try. You won't find your regular seafood here: Makai specializes in serving up unique dishes, with manta rays and squid often making an appearance.
The menu changes regularly to keep things exciting and introduce tourists to some of the unique flavor profiles of the region.
The beach views alone are a reason to visit, but the delicious cuisine makes it much more special.
If you want regular food, don't stress - there is a standard menu with burgers, ceviche, and tacos.
La Palapa Restaurant
Situated at Playa Los Muertos, this unique restaurant boasts tasty and unique local ingredients and flavors.
You can expect some Mexican classics with a twist. Often influenced by French and Asian cuisine, this is a mouth-watering food fusion you don't want to miss.
Book your table quickly if you're in the mood for some freshly caught seafood; otherwise, you will have to try other restaurants.
Café des Artistes
This eatery mixes French style with Mexican inspiration and is a more upscale choice in Puerto Vallarta.
There are a few tasting menus to try, with items like Sealed Foie Gras Rougié, Cream of Prawns, and Pumpkin from Castilla.
The venue is more upmarket, and children must be over eight to enter.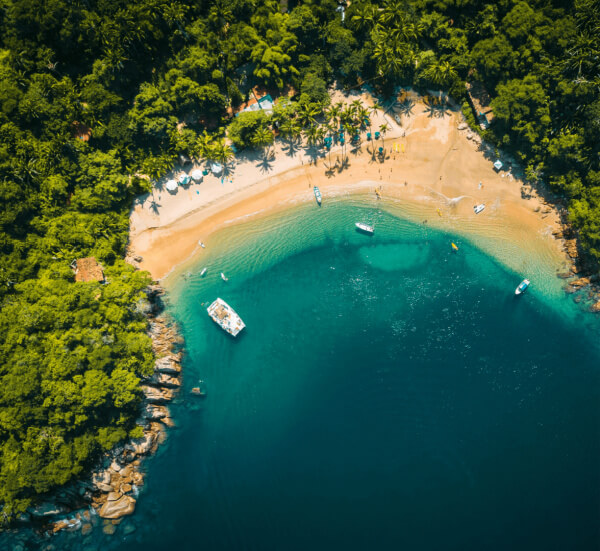 How To Get To Puerto Vallarta
There are many ways to get to this fabulous beach destination, and the easiest is to find flights to Puerto Vallarta.
International flights land at Licenciado Gustavo Díaz Ordaz International Airport, close to most resorts in Puerto Vallarta.
Getting to the Hilton takes about 30 minutes and to The Hyatt takes around 25 minutes via car.
Getting an Uber is easy, and there are shuttles available. Plus, if you're coming from Guadalajara, there is a bus that takes just under five hours.
If you don't like flying or sitting in traffic, the busy port in Puerto Vallarta can accommodate up to three large cruise ships at a time.
FAQ
What is the best month to go to Puerto Vallarta?
The best time to visit the area is between April and June. It's not too hot, the rainfall is relatively low, and there is less of a crowd as it is outside of peak season.
Why is Puerto Vallarta so popular?
Puerto Vallarta is an excellent place for adults and families with children. It boasts fantastic nature experiences, mesmerizing beaches, and the cuisine is unlike anywhere else.
Are Puerto Vallarta beaches swimmable?
Absolutely - the beach locations are one of the Puerto Vallarta's main drawcards. You can swim, snorkel, and dive to your heart's content.
Final Thoughts
Perto Vallarta is a beach lovers' dream destination. The Mexican city has impressive beaches with just about any water activity you can imagine.
There are some fantastic all-inclusive resorts and beautiful restaurants and bars that serve food and drink that is out of this world.
Getting to Puerto Vallarta is pretty easy with a quick flight from LA. Getting around the city is also easy, with shuttles and Uber available.
Sources:
https://www.eater.com/maps/best-restaurants-puerto-vallarta-mexico-todos-santos
https://www.expedia.com/Puerto-Vallarta-Hotels-All-Inclusive-Hotel.0-0-d180016-tAllinclusiveHotel.Travel-Guide-Filter-Hotels
https://travel.usnews.com/Puerto_Vallarta_Mexico/When_To_Visit/
https://www.tripsavvy.com/puerto-vallarta-travel-guide-1588620#:~:text=The%20most%20common%20way%20to,cruises%20of%20the%20Mexican%20Riviera.
https://www.lapalapapv.com/cuisine
https://cafedesartistes.com/menu/
https://www.hilton.com/en/hotels/pvrpahh-hilton-vallarta-riviera-all-inclusive-resort/
MORE PLACES TO GO ON VACATION
Caribbean and Mexico Destinations
Antigua and Barbuda
Aruba
Bahamas
Barbados
Belize
Bermuda
Bonaire
Cabo San Lucas
Cancun Mexico
Cayman Islands
Costa Rica
Curacao
Dominican Republic
Grenada
Jamaica
Puerto Rico
Puerto Vallarta
St Kitts and Nevis
St Lucia
St Martin
St Thomas Virgin Islands
Turks and Caicos Islands

Pacific Island Destinations
Australia
Bali
Big Island Hawaii
Bora Bora
Fiji
Kauai
Maui
Moorea
New Zealand
Oahu
Tahiti Village
Places to Go on Vacation