Aruba all inclusive

Click to Call
Have you been desperate for a holiday in the sun? We can't think of anything better than sipping ice-cold drinks on a white sand beach, with the warmth of the sun on your face.
Have you considered Aruba? This stunning Caribbean island enjoys beautiful weather for most of the year. Expect temperatures up to 82 degrees Fahrenheit, perfect for those sunbathing days!
The best way to experience this gorgeous island is with one of our all-inclusive vacations. This makes planning your vacation an easy and stress-free process.
Want to know more about an Aruba all-inclusive package? Read on to find out more about this fascinating island!
Island of Aruba: Insider Tips
All-Inclusive Resorts in Aruba
The best all-inclusive resorts in Aruba should have your hotel stay, activities, entertainment, and unlimited food and drinks included in the price, with no unpleasant extra charges.
That's exactly what these all-inclusive packages offer, whether you want an adults-only break or a family vacation! Let's take a look at our top picks!
Manchebo Beach Resort
Located on Irausquin Blvd just a 5-minute walk from the Manchebo beach, this full-service spa hotel offers its guests pure luxury and relaxation. Links at Divi Aruba and The Eagle Beach are also nearby.
This stunning boutique resort allows you to experience the ultimate Caribbean getaway. Featuring three a-la-carte restaurants, a swim-up bar, and an exclusive Caribbean-Balinese beach spa to help you completely relax.
Tamarijn Aruba all-inclusive resort
Another beach resort on Irausquin Blvd, the Tamarijn hotel is a full-service spa boasting five restaurants and an outdoor pool. The free kids club makes it a perfect destination for a family holiday, with an arcade and child-friendly dining options.
Boasting 236 guest rooms, all of which are spacious and airy, and have stunning ocean views and private patios.
Divi Aruba all-inclusive resort
Go wild and spend time windsurfing, sunfish sailing, or simply take it easy and get your tan on by one of the freshwater pools at the Divi Aruba resort. You could even head to the tennis courts for a game!
The Divi all-inclusive resort also has everything you'll need for a comfortable and restful stay. All the catering is included: all meals, snacks, and drinks and you have ten dining options to choose from!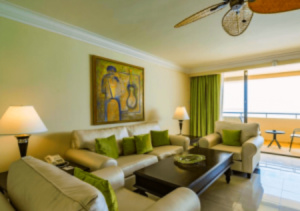 Food
You'll find a wonderfully diverse range of cuisine in Aruba. Indulge in traditional food inspired by European recipes from Italy and France. Or maybe seafood is more your thing? You'll find fresh mahi-mahi and red snapper in many of the island's restaurants.
You'll even find dishes inspired by recipes from Asia and Africa. This culinary diversity is what makes an Aruban vacation one of the most unique foodie destinations in the Caribbean, there's something for everyone!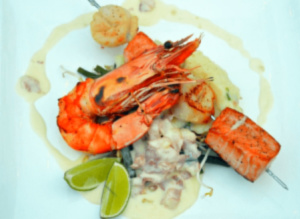 Salmon, scallop, and jumbo shrimp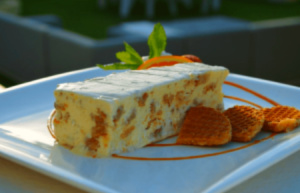 Stroopwafel parfait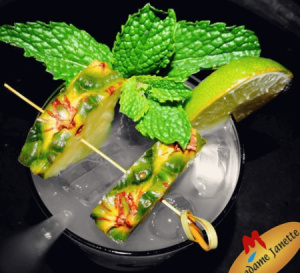 Pineapple mojito
Diving
If you're itching to get into the water, a spot of diving in the crystal clear waters of an Aruba beach is a must! Anyone can go scuba diving in Aruba, whether you're an advanced level diver or a brand new beginner.
There are a wide range of lessons on offer, all designed to help you get the most out of your underwater adventure. With many excursions and underwater tours available, you'll be able to explore the unique and beautiful coral reefs and Aruba's marine wildlife.
The island of Aruba is also known as the wreck diving capital of the Caribbean! From the famous World War II wreck, The Antilla, to the torpedoed wreck of The Pedernales, history fans will love exploring these deeply hidden gems!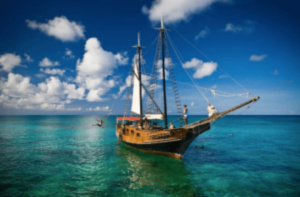 Wildlife
Aruba is home to many beautiful animals, from tropical birds and iguanas to wild donkeys and exotic insects! The butterfly farm is the perfect place to see all different kinds of colorful butterflies, be sure to have your camera at the ready!
A visit to The Donkey Sanctuary is also an essential visit for animal lovers. The sanctuary rescues abused or injured donkeys and visitors can bring their own apples and carrots to feed them, something the donkeys will definitely appreciate!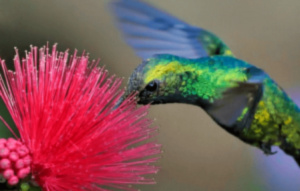 National Parks
Although Aruba is one of the most popular destinations in the Caribbean, a lot of it is still completely untouched and in its natural state. The stunning Arikok National Park occupies almost 20% of the island!
The National Park allows you to enjoy the beauty of this island, why not take one of the guided tours and discover the unique geological and historical sites that Aruba has to offer? Discover many hidden treasures such as the Conchi natural pool and spectacular caves with original Indian rock carvings!
It's also the perfect place for a full day of hiking. Take in the breathtaking landscapes and admire the many animal species that call this beautiful park their home.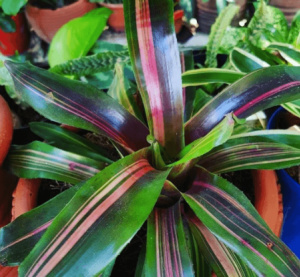 FAQs
How much on average does it cost to holiday to Aruba?
The beauty of Aruba all-inclusive resorts is that everything is paid for in advance. You won't need to worry about where you'll eat next or waste time trying to find somewhere that fits your budget. The Aruba all-inclusive resorts will have multiple restaurants on-site for ultimate convenience.
How much the resort costs will completely depend on which hotel you choose and how long you stay. For a 2-person, 7-night vacation in a 4* resort, you could expect to pay approximately $4000.
This will include your hotel room, unlimited meals, snacks and drinks, and sometimes even your flights. Be sure to shop around so you get the best deal.
Does Aruba have any adults-only resorts?
Yes, there are many hotels that are exclusively for adults. If you're looking for a romantic trip for two, the Manchebo Resort is an intimate boutique hotel that's perfect for couples' getaways.
Other suitable all-inclusive resorts and hotels include The Divi resort and The Riu Palace Antillas. The Riu Palace Aruba is the first adults-only resort on the island offering a 24-hour inclusive service.
Enjoy a glass of Cava on arrival and all rooms include complimentary Wi-Fi, air-conditioning, and even a liquor dispenser, perfect for starting your adults-only vacation!
What is the cheapest time of year to visit the Island of Aruba?
The off-season for Aruba is generally April-August. The prices tend to drop at these times and because these months sit well outside the hurricane belt, there's very little chance of any tropical storms hitting the island.
The temperatures are also higher meaning you'll have loads of time to top up your tan. You won't need to worry about the weather becoming too hot either - the frequent high winds will stop the heat from becoming unbearable.
MORE PLACES TO GO ON VACATION
Caribbean and Mexico Destinations
Antigua and Barbuda
Aruba
Bahamas
Barbados
Belize
Bermuda
Bonaire
Cabo San Lucas
Cancun Mexico
Cayman Islands
Costa Rica
Curacao
Dominican Republic
Grenada
Jamaica
Puerto Rico
Puerto Vallarta
St Kitts and Nevis
St Lucia
St Martin
St Thomas Virgin Islands
Turks and Caicos Islands

Pacific Island Destinations
Australia
Bali
Big Island Hawaii
Bora Bora
Fiji
Kauai
Maui
Moorea
New Zealand
Oahu
Tahiti Village
Places to Go on Vacation