Bora Bora

Click to Call
Bora Bora, French Polynesia, is a beautiful island in the South Pacific, protected by a barrier reef that makes Bora Bora's lagoon and marine life a popular location.
Bora Bora is made up of the main island and a number of other beautiful islands. This gives visitors the opportunity to live out their vacation dreams with a private island all to themselves.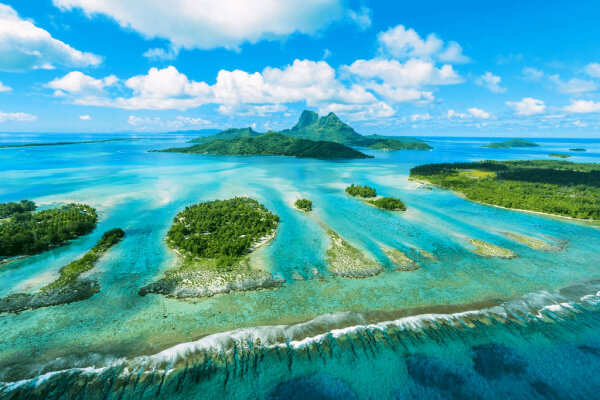 What Sets Bora Bora Apart
Bora Bora has a lot to offer visitors. The following reasons set it aside from other destinations and make it a dream location for many.
Bora Bora Events
You might be able to plan your visit around one of the great events that happen throughout the year in Bora Bora, which includes the following:
Tahiti Pearl Regatta
The Pacific's largest sailing race takes in the Bora Bora islands as part of its course, giving enthusiasts an excellent opportunity to view the spectacle.
Celebrations are held in the evening with music, dancing, and BBQs.
Bora Bora Liquid Festival
Every December, Bora Bora celebrates the natural beauty of the islands and the athleticism of its locals with parties and activities held over a few days.
Heiva I Bora Bora
Held in either July or August, Heiva I Bora Bora features a carnival-like atmosphere with sports, crafts, dancing, and celebrations. Traditionally a war ritual, it is now seen as a way to celebrate life.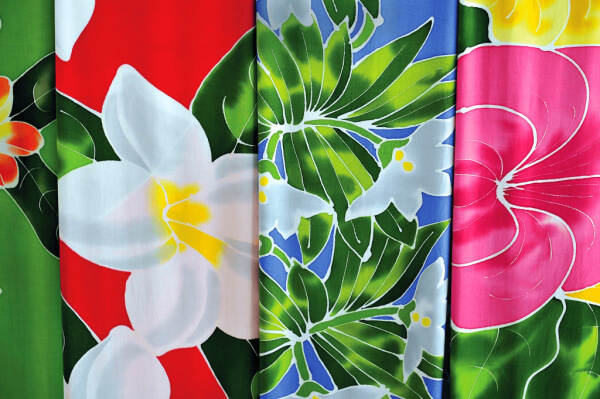 Bora Bora Locations
There are a number of great locations and attractions to visit in Bora Bora, some worth exploring include;
Matira Beach
It is not difficult to find a white sand beach in Bora Bora, but Matira Beach is one of the best. There are great hiking trails, shops, bars, and restaurants to enjoy at this great location.
Mount Otemanu
This ancient volcano offers an area of outstanding natural beauty for visitors to enjoy. Tours and boat trips offer a great way to enjoy the area.
Bora Bora Lagoonarium
Explore lagoon life at the Lagoonarium with snorkeling and tours, allowing tourists to see stingrays, manta rays, sharks, and turtles around the outer coral reef.
Food & Drink in Bora Bora
Visiting Bora Bora's restaurants to sample local cuisine and drink is a must. Here are some of the top dishes and drinks;
Sushi
As you might expect from an Island, fresh fish is often on the menu. Sushi is prepared with freshly caught fish and sweet rice.
Rotisserie Pork
Fresh pork cooked on a rotisserie and served with succulent pineapple is an island favorite.
Cocktails
Cocktails are popular in Bora Bora because of the great selection of fresh fruit and delicious rum.
Famous Resorts In Bora Bora
Another great thing about visiting Bora Bora is the opportunity to vacation in wonderful beach resorts where you can enjoy spectacular views, a private beach, complimentary airport transportation, and much more.
Four Seasons Resort Bora Bora
The over-water bungalows provide a dream vacation for many. The five-star resort is perfect for those that love the water, with a resident marine biologist offering sessions, paddle boarding, and private pools.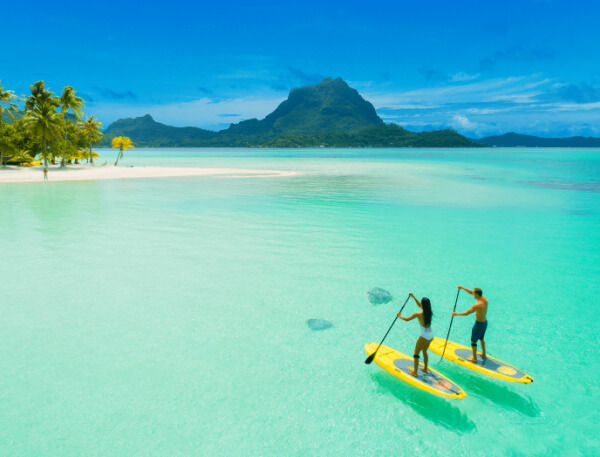 The superb dining facilities offer al fresco options, as well as room service.
The family-friendly resort is great for kids, and adults will also be able to relax by making the most of the spa facilities.
The St. Regis Bora Bora Resort
With views of Mount Otemanu, the ocean, and the lagoon, The St. Regis Bora Bora Resort is a luxury getaway that is great for romantic getaways.
Golf carts and bicycles are used to get around the resort, and the four restaurants offer an extensive range of high-quality cuisine.
Guests can enjoy watersports, the sauna, spa, swimming pool, fitness center, or tennis court.
Conrad Bora Bora Nui
The Conrad Bora Bora Nui resort has the longest white-sand beach of any resort in Bora Bora at over half a mile long. The resort is located on Motu To'opua, a short boat ride from the main island.
The villas are located on the water and have their own private deck for guests to enjoy.
Conrad Bora Bora Nui vacation packages include access to a mini golf course, paddleboards, snorkel gear, and kayaks. This makes it easy for tourists to make the most of the crystal clear waters and incredible marine life.
Private infinity pools are available with some suites, with others boasting hot tubs and saunas.
Babysitting and kids club options are available for families, and the excellent dining facilities offer guests a wide and varied choice.
Sofitel Bora Bora Private Island
If you are looking to get away from busy, tourist-filled spots, Sofitel Bora Bora Private Island could be perfect for you.
Motu Piti U'uta island has stunning white sands and is surrounded by the idyllic blue lagoon.
Over-water villas and land lodges are available for guests to choose from. The food available at the Manu Tuki restaurant is of a high quality, and the lagoon views are stunning.
Snorkeling and scuba diving are popular because of the coral nursery and marine life offshore. There is also a great swimming pool for people that want to avoid the sand, and the on-site spa is the perfect place to relax.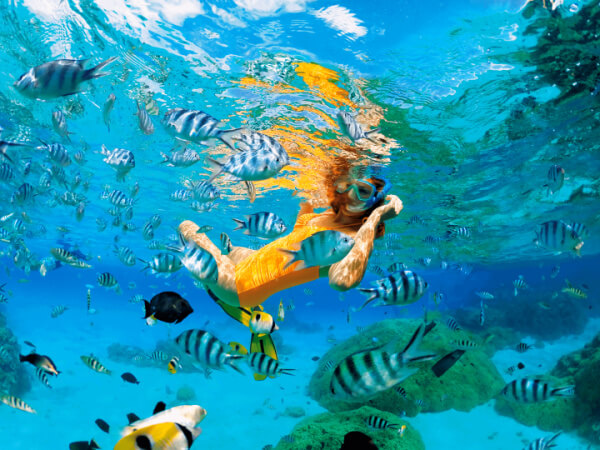 FAQs
Is Bora Bora safe?
Yes, Bora Bora is considered to be one of the safest locations to travel to due to its low crime rates. Caution is still advised as it would be anywhere in case of opportunistic theft.
What language is spoken in Bora Bora?
Tahitian and French are the most commonly spoken languages in Bora Bora, but English is also spoken by many, especially in tourist areas and resorts.
What currency is used in Bora Bora?
Like all other French Polynesian islands, the currency used in Bora Bora is the Pacific Franc. The exchange rate of the Pacific Franc (XPF) is around 90 per $1. Thinking of the Pacific Franc as being similar to one cent is an easy way to get a rough idea of the cost of things in Bora Bora.
How long does it take to fly from the US to Bora Bora?
Flight lengths from the US to Bora Bora will differ depending on where you are flying out from. One-stop flights from LA to Bora Bora will take between 10 and 11 hours. Two-stop flights from New York can take in excess of 20 hours.
When is it best to visit Bora Bora?
The best time to visit Bora Bora will depend on what you plan to see and do. There are events throughout the year that might dictate when you should visit. In terms of weather, May to October offers the most sun and is considered the dry season, but it is also much busier.
You can still expect good weather between November and April but can enjoy off-peak deals and quieter attractions. You will be more at risk from rain showers during this rainy season. That being said, Bora Bora's wet season is not as bad as in other countries.
MORE PLACES TO GO ON VACATION
Caribbean and Mexico Destinations
Antigua and Barbuda
Aruba
Bahamas
Barbados
Belize
Bermuda
Bonaire
Cabo San Lucas
Cancun Mexico
Cayman Islands
Costa Rica
Curacao
Dominican Republic
Grenada
Jamaica
Puerto Rico
Puerto Vallarta
St Kitts and Nevis
St Lucia
St Martin
St Thomas Virgin Islands
Turks and Caicos Islands

Pacific Island Destinations
Australia
Bali
Big Island Hawaii
Bora Bora
Fiji
Kauai
Maui
Moorea
New Zealand
Oahu
Tahiti Village
Places to Go on Vacation