Universal Orlando, Universal's Volcano Bay

Click to Call
If you enjoy summer and relish splashing around in sparkling blue waters, you will love taking a trip to the most exhilarating water theme park in the Universal Orlando Resort: Volcano Bay!
Explore the spectacular scenery of this island paradise, originally called Volcano bay by the Waturi natives, and take the opportunity to enjoy this water haven for the body and soul.
When it comes to visiting Volcano bay, Seven Seas Travel is the travel partner to get you there. This article includes all the need-to-know information on Universal Orlando Resort and what it offers.
Start planning your trip, explore the cooling waves, get your Universal Volcano Bay tickets and dive into the holiday of a lifetime. Enjoy delectable meals at the area's best restaurants, make the most of the theme park rides and slides, and take in all the entertainment and attractions you can.
Why Choose Universal's Volcano Bay?
This tropical-themed water park is thrilling, and not a destination to miss out on! Volcano Bay should be on everyone's bucket list.
Universal Orlando Resort has three magical destinations: Universal Studios, Universal's Islands of Adventure, and Universal's Volcano Bay.
Each theme park has unique features and adventures to try, with Volcano Bay's tropical vibe immersing you in a far-away, exotic atmosphere. Explore its curated, themed attractions and exciting rides and make some memories to last a lifetime.
Jump into the wave pool, let your hair down on the Kala & Tai Nui Serpentine Body waterslides, dare to brave the Ko'okiri Body Plunge, cool off in the Puka Uli Lagoon, relax on the lazy river and explore Rainforest Village.
After all the day's activities, you can retreat to your own little 'island of solace' - rent one of the private cabanas throughout the waterpark. This unique feature distinguishes Volcano Bay from any waterpark experience you may have had, so start your journey now!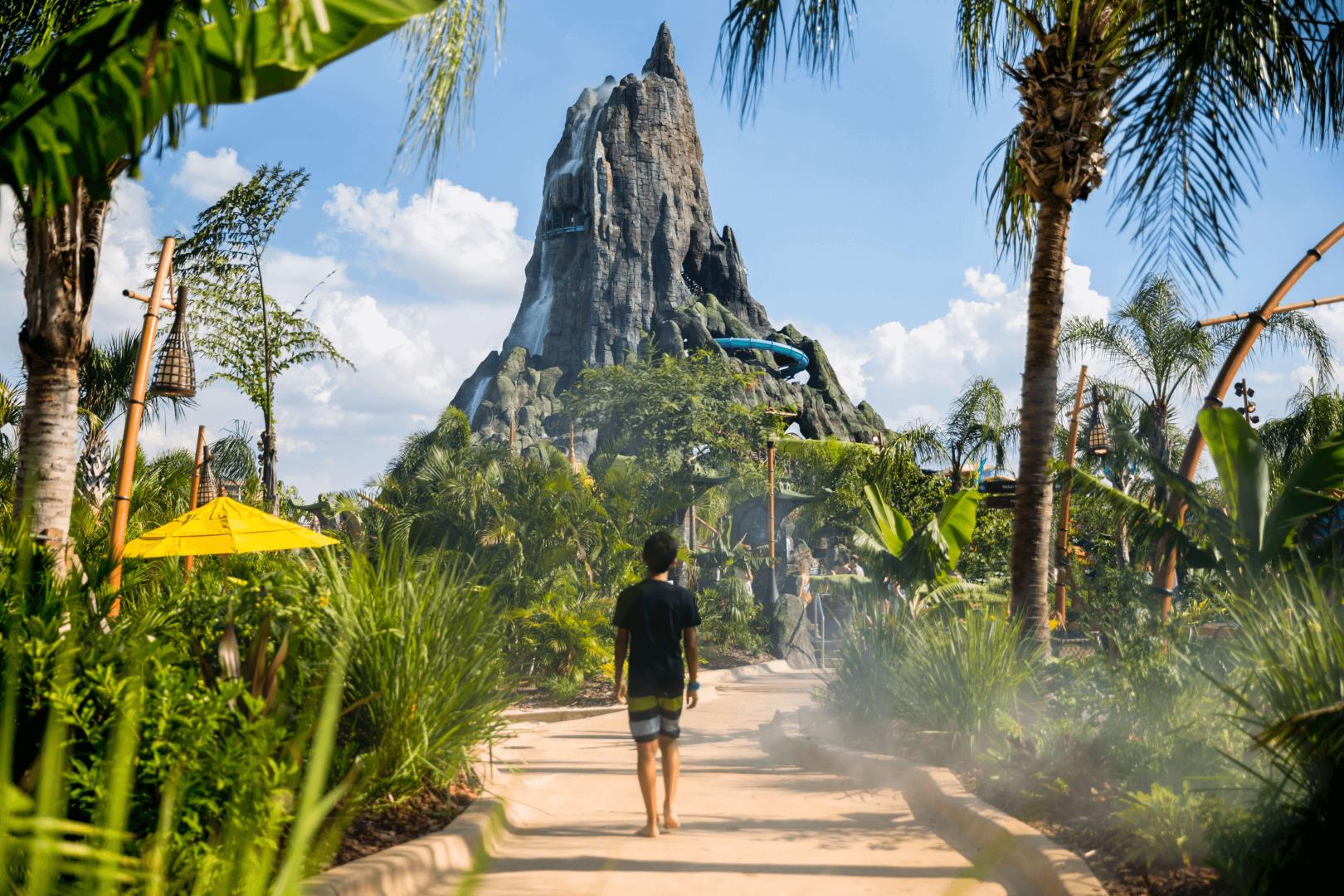 What To Do: Universal's Volcano Bay Rides and Attractions
Krakatua Aqua Coaster
The Krakatau Aqua Coaster is a nod to the Krakatau Volcano, the main visual attraction in the park. The actual volcano towers 200 feet into the air, while the rollercoaster ride thrills guests with its breathtaking speed.
"Intense" and "amazing" are just two words to describe this adrenaline junkie's dream ride. The Krakatau Aqua Coaster carries your boat through waterslides, heading downhill for exhilarating drops before powering back up - before plunging down once again.
It may feel like an effortless slide up and downhill, but brace yourself for the adventure of a lifetime!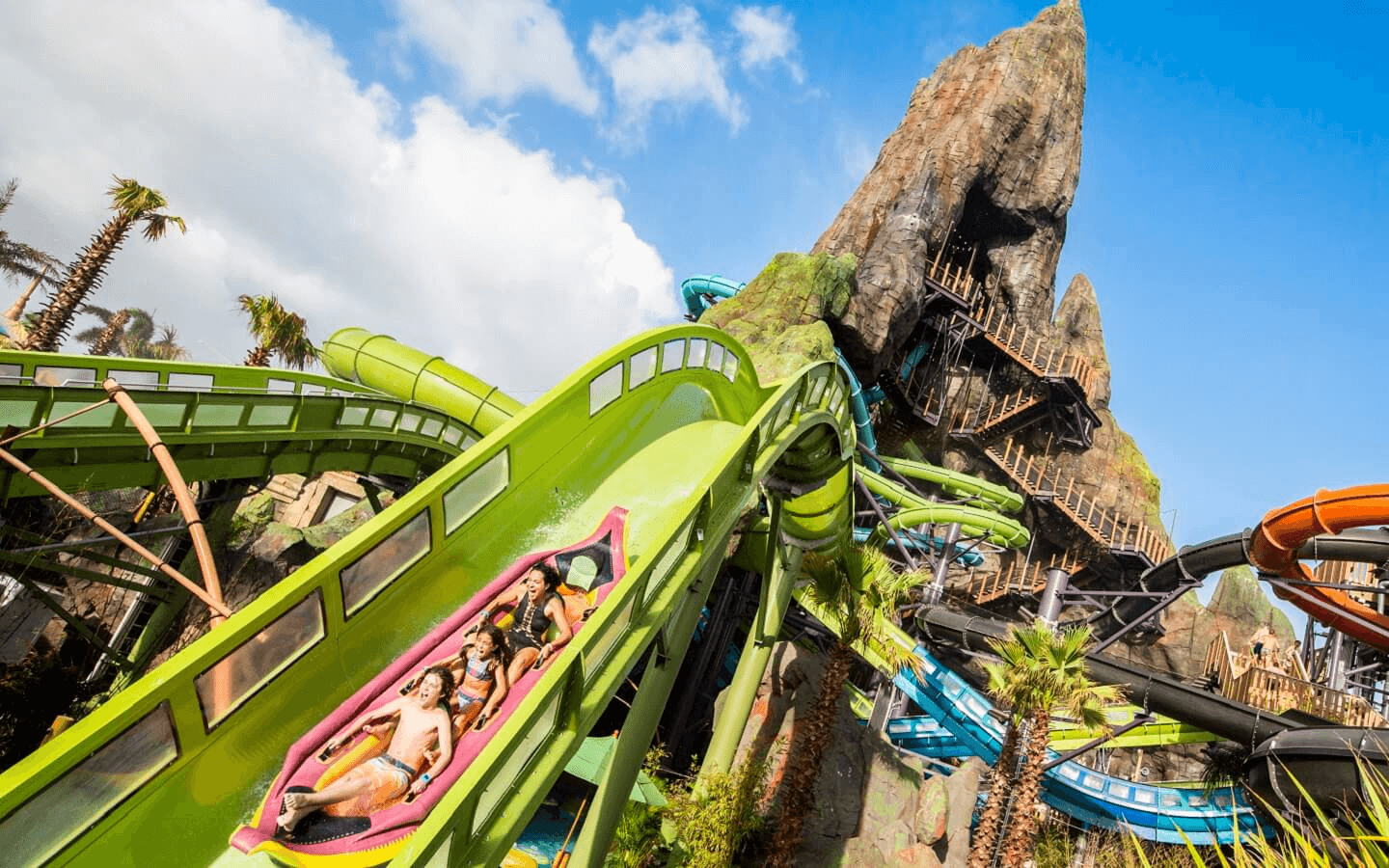 Kopiko Wai Winding River Ride
If you are feeling lazy, then the Kopikoi Wai Winding River is the perfect choice so you can unwind as you gently float along the river.
This lazy river isn't fast and has no unexpected vertical drops, but it's a visual treat from beginning to end, showing off the park's most beautiful scenery.
Imagine being on a tropical water conveyor belt, taking you on a tour of the Krakatau Volcano, and having front-row seats to the resort's most spectacular views and natural features. Well worth dipping your toes into!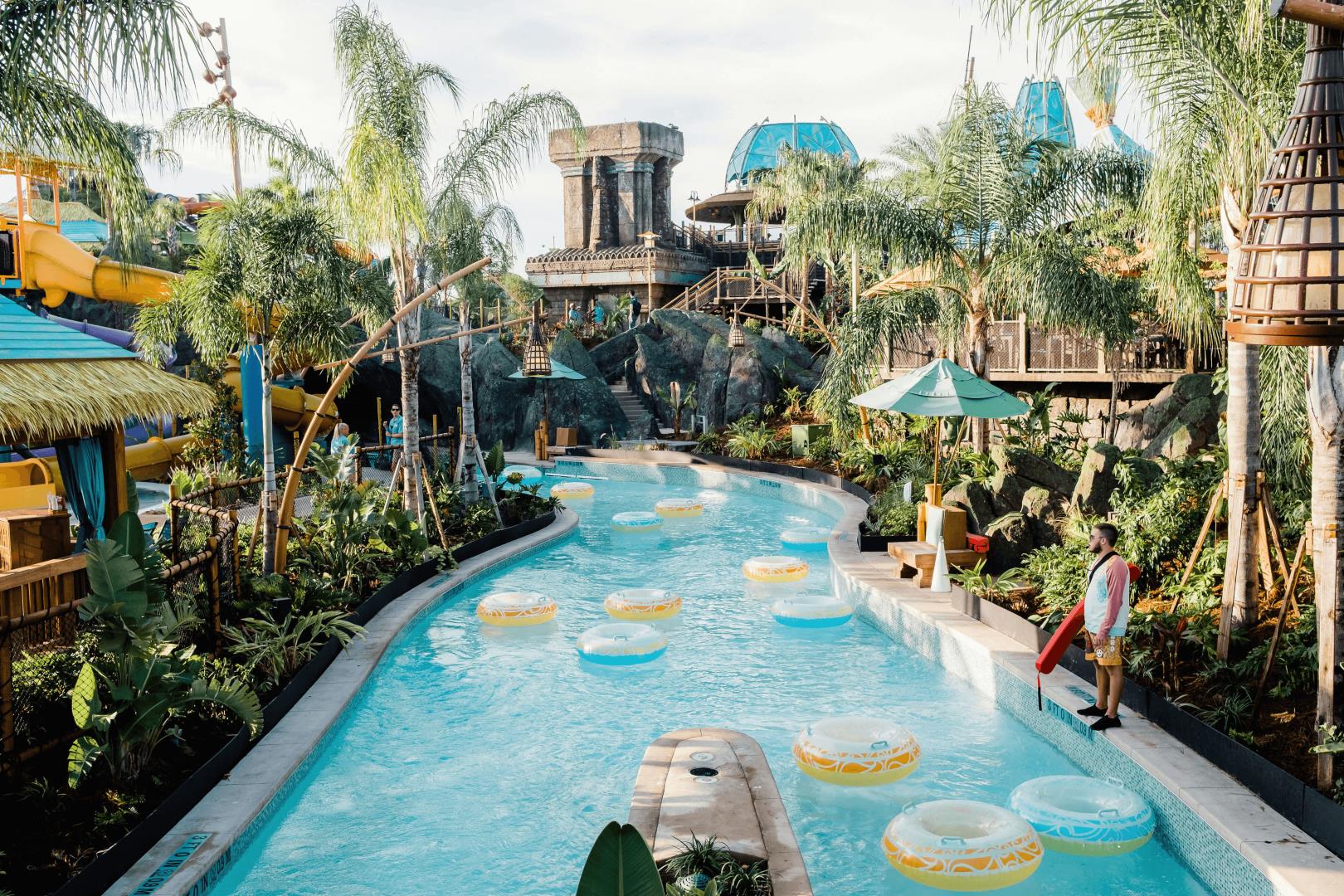 Honu Ika Moana Raft Ride
Board a turtle- or whale-shaped raft with friends or family, and begin your water side down the winding tunnels of the Honu Ika Moana Raft ride. This ride is fast and perfect for everyone looking for an adrenaline rush!
Runamukka Reef
Ranumukka Reef is the perfect play haven for children, with the underwater beauty of this coral reef waiting to be admired and enjoyed. This magnificent reef is said to have been an underwater coral reef, now named Runamukka Reef.
The wonder of a world beneath the waves is available for all to see at this incredible attraction.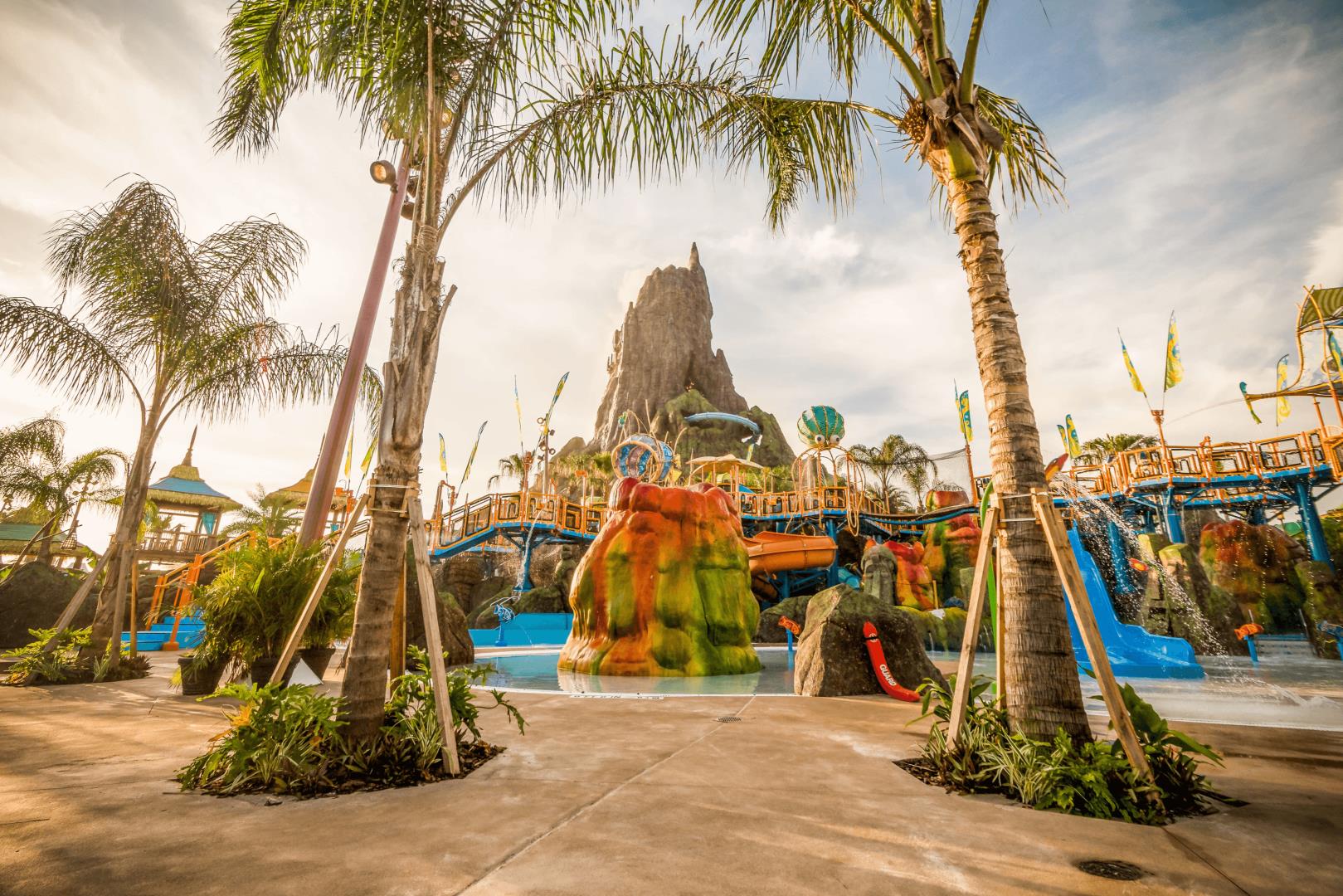 Punga Racers
Remember the days when you would climb into a cardboard box and slide down a grass hill as fast as you could? Well, the Punga Racers attraction allows you to relive your childhood shenanigans in style!
Climb the wooden stairs to the top of the ride, sit on a mat, and get ready, set, go! Journey through colorful tunnels, accelerating through the unexpected twists and turns, before plunging into a water pool - then rinse and repeat!
Ko'okiri Body Plunge
This attraction is rated the scariest, fastest, and craziest ride at Volcano Bay. Need we say more? Get in line if you're after the ultimate adrenaline rush.
Waturi Beach
Named after the Waturi tribe that discovered the volcano, Waturi Beach invites you to take a journey through its tropical destinations, including The Reef and Wave Village.
Other Attractions To Visit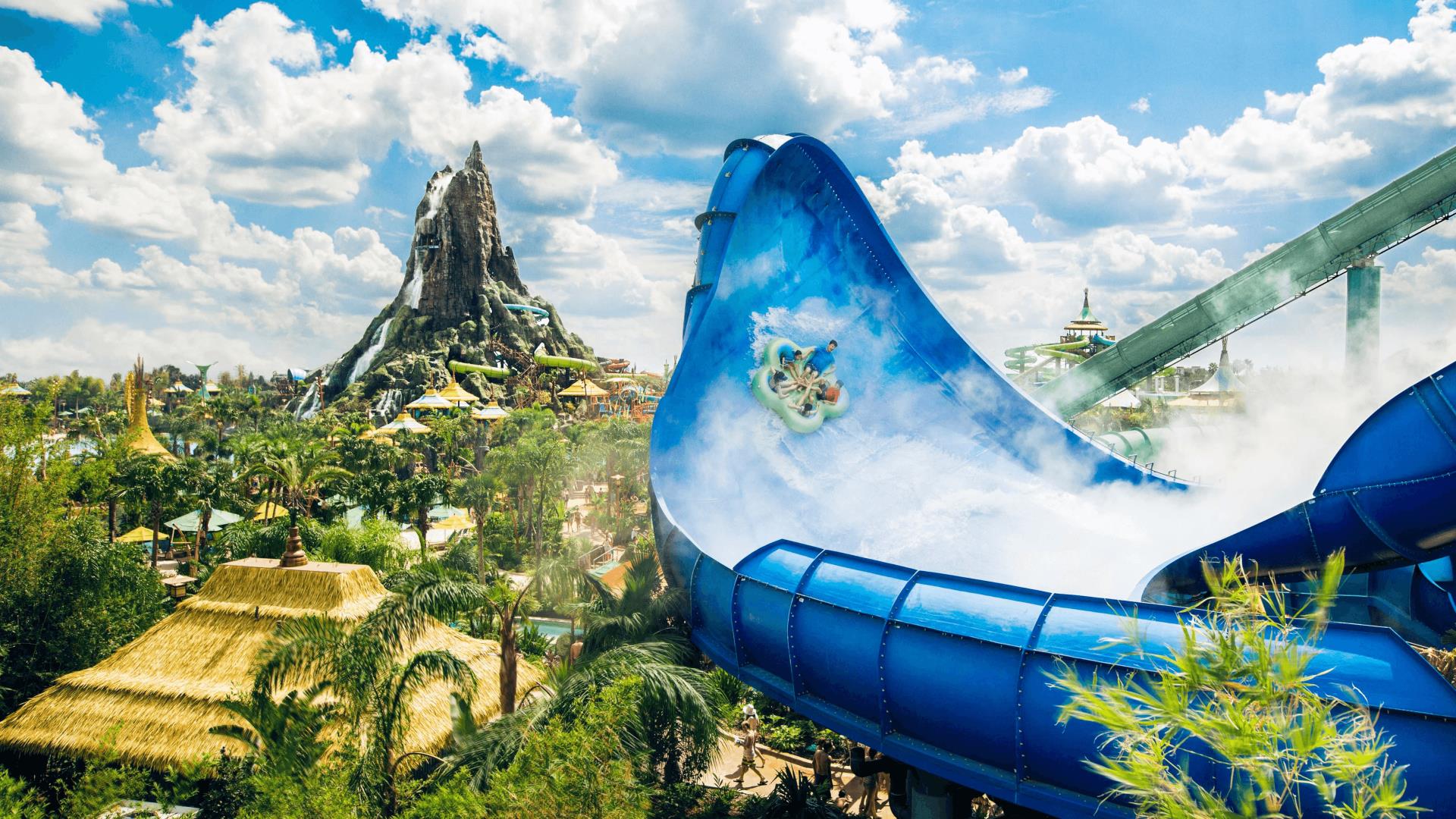 Relax Cabana style!
What better way to enjoy your day than having your own private cabana? Volcano Bay has thought about everything to guarantee an amazing experience at the water park, including creating a private area for you to retreat to in between adventures of water slides!
The cabanas feel like a home away from home, with a small refrigerator full of refreshments, towels, the convenience of a concierge service, and a menu allowing you to place orders for snacks and food to be delivered right to your cabana doorstep.
Idyllic one- and two-story cabanas, single cabana units, ground-level cabanas, and family cabana units are available, with padded lounge chairs to top off the relaxing experience.
All you need to do is make a booking upfront and secure your little piece of heaven in the theme park. To book your cabana, call 1-877-801-9720.
Where To Eat: Best Universal's Volcano Bay Restaurants
Nothing creates an appetite like water activities. With an array of dining choices, your Universal Orlando trip will keep your taste buds and tummy happy and satisfied.
Try any of these amazing restaurants at Volcano Bay:
The Feasting Frog
Love nachos and tacos? This is the spot for you! Lunch and dinner couldn't be quicker! Dip into an array of mouth-watering treats.
Krakatoa Katy's
Krakatoa Katy's is perfect for a quick lunch stop or lazing around after a day of splashing in the water. The eatery's snacks and beverages are top quality.
Dancing Dragon's Boat Bar
If you want to feel tropical, have a cocktail at this delightful drinks destination. Snacks are served as well.
Bambu
Bambu is the best place for burgers, sandwiches, snacks, and salads. Beautiful bamboo decor and island-style vibes complete the experience.
Kohola Reef Restaurant & Social Club
Kohola is great for quick service lunch and dinner with a view of the lagoon.
The City Walk restaurants
Universal CityWalk is described as 'The Epicenter of Awesome,' and for a good reason. This popular attraction offers a carefree escape, with 11 sit-down restaurants, a food court, and a variety of meals ranging from burgers to sushi.
There are many fantastic culinary options in and around Universal's Volcano Bay that will have your mouth watering.
More restaurant options are available here.
Where To Stay: Best Places at Universal's Volcano Bay Hotels
When choosing among the fantastic hotels at the Universal Orlando resort, keep a short checklist on hand to make an easy decision: does your hotel offer free WiFi, free parking, free breakfast, free shuttles, or complimentary shuttle buses? Pick the right hotel and enjoy these perks and more.
We have listed some of the most popular hotel options to make it easier to decide.
Wind down when you stay at one of the Universal Orlando Resort hotels and continue your Volcano Bay experience long after the park has shut for the night.
Universal's Cabana Bay Beach Resort
Universal's Cabana Bay Beach Resort feels like a trip down memory lane into the retro vibes of the '50s and '60s, diners and milkshakes, water slides, and fun. Relax at the Atomic Tonic Bar, slip into the refreshing waters of the outdoor pool, explore the Cabana Courtyard and watch the stars around the fire pit at night. Absolute heaven!
Universal's Cabana Bay Beach Resort is fantastic value for money and a favorite for families who want quick access to the theme park's rides. Family suite cabanas will make this feel like your home away from home. Early park admission perks allow hotel guests access to rides and other attractions an hour before the official park opening.
All the Universal parks, Universal Studios, and Universal's Islands of Adventure are close to Universal's Cabana Bay Beach Resort, with shuttles traveling between them for your convenience. When visiting Universal's Volcano Bay, you are within walking distance of the park itself.
Loews Portofino Bay Hotel
Step into a world of leisure when you enter this quaint, Italian-inspired establishment. Hearty food and charming surroundings welcome the hotel guests, with sparkling pools and a tranquil harbor setting to make you feel like you are in the heart of Italy!
The Loews Portofino Bay Hotel goes a step further by offering the amenity of the exclusive Portofino Club Lounge with selected guest packages. Stay connected to your family and friends with free WiFi throughout the hotel.
To add to the Loews Portofino Bay Hotel's charm, its accommodation includes spacious suites between 650 to 2,725 square feet, with custom-themed suites, including a Despicable Me Kids' Suite. For those wanting to glam up their stay, the Presidente and Governatore Suites are a must-see! Hop on the Universal Express for quick access to the surrounding theme parks, including Universal Studios.
Universal's Endless Summer Resort
Rated as 4 out of 5 on Tripadvisor, Universal's Endless Summer Resort is the ideal destination for your family vacation. The atmosphere is welcoming and relaxed, inviting you to kick off your shoes and enjoy the endless summer sunshine at the outdoor pool.
In addition to its spacious rooms and family suites, guests can enjoy the bar, sparkling pool, parking, and free shuttle services. Perks include Early Park Admission Access (valid theme park admission required) and exclusive Universal Hotel guest benefits. This resort is fantastic value for money and ideally located in proximity to the park.
All rooms have refrigerators, air conditioning, a safe, and a flatscreen tv. Visit the hotel website for a 20% saving on selected rooms when staying for four nights or more.
Other Hotels and Special Offers
Universal Orlando's Hotels offer exclusive benefits and a perfectly priced escape. Special offers at Universal's Endless Summer Resort, Dockside Inn and Suites, and Surfside Inn and Suites allow for a 20% discount on bookings made by December 2022. So, what are you waiting for?
All the hotels of Universal's Orlando Resort offer fantastic family packages to match every budget at their range of unique themed hotels. Check out the details here:
Volcano Bay Tickets
Get your Universal Volcano Bay tickets here!
Visit the Volcano Bay website to make sure you do not miss out on the traveler's tips before you embark on this amazing adventure and secure your Universal Express pass.
Knowing you are bound to get soaked, their virtual line options are as technologically advanced as the rides at the park, offering a waterproof device called the TapuTapu™, allowing you to keep your spot in line without worrying about getting any of your personal belongings wet.
What To Know: FAQs
What are the park ticket prices?
Ticket prices range from $70 to $85 for Universal's Volcano Bay to $ 109 for Universal's Islands of Adventure and Universal Studios (each). Still, depending on the time of year you are traveling, there are specials available, and multi-park access is worth your while!
When planning your vacation, be sure to go online and view the specials so that you don't miss out. Everything you need to know, including special offers, is available here: Park tickets.
What is the scariest water slide in Volcano Bay?
The Krakatau Coaster is bound to scare some riders, but the Ko'okiri Body Plunge takes the lead for the scariest ride with a 125 feet drop!
Do you need reservations for Volcano Bay?
With Tapu Tapu at Universal's Volcano Bay, you can reserve virtual places online for your ride queues.
Can you buy a single ticket to Volcano Bay?
Of course, you can. Single park entry for Volcano Bay is between $70 and $85.
How many rides are on Volcano Bay?
More than ten rides/attractions to choose from! Some favorites:
Krakatua Aqua Coaster

Kopiko Wai Winding River Ride

Honu Ika Moana Raft Ride

Ranumukka Reef

Punga Racers

Waturi Beach

Maku of the Maku Puihi Round Raft Rides

Puihi Round Raft Ride

Kala & Tai Nui Serpentine Body Slides

Ko'okiri Body Plunge
Sources:
https://www.travelwith-us.com/
https://www.universalorlando.com/web/en/us/places-to-stay/hotels/at-a-glance/hotels-overview
https://www.undercovertourist.com/blog/universal-volcano-bay/
http://www.universalorlandovacations.com/specials/on-site.aspx
https://www.universalorlando.com/web/en/us/places-to-stay/universals-cabana-bay-beach-resort
https://theparkprodigy.com/tickets/volcano-bay/