Island of Grenada

Click to Call
Known famously as The Spice Island, the island nation of Grenada should be one destination that's on your bucket list this year. With a population of over 108,000 inhabitants, there are many reasons why you should visit this wonderful location in the Caribbean.
Looking for an experience in a foreign land that you'll remember for years to come? There are many beautiful spots to explore in Grenada, from its capital city of Saint George to the premier tourist attraction that is Belmont Estate.
Here are some of the great reasons for booking a flight to the island of Grenada for your next summer vacation.
Explore Grenada
There are lots of opportunities to explore in Grenada. This is a destination that has a great mix of relaxation but is sprinkled with activities for those with a desire to get out and about. So what's recommended?
Grand Anse Beach
Grenada is home to some beautiful beaches and one that has to get a special mention is the Grand Anse Beach. Described by many on Tripadvisor as being a long and lovely sweep of white sand and turquoise blue water, it's a tranquil spot for many locals and tourists.
Enjoy the landscape of hills that backs the beach and spend many of your hours or days on this beach with a good book. Eastern Caribbean offers the very best when it comes to beaches across the world and this is one you shouldn't miss out on visiting.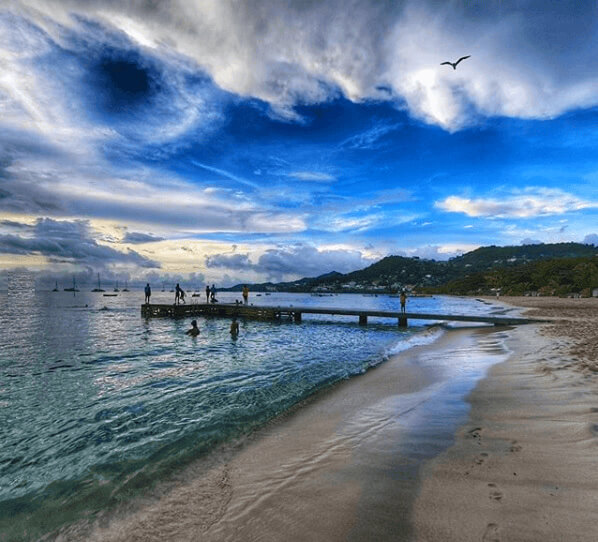 The beach itself is very clean and you're likely to find many people on this beach to enjoy a drink and a chat with if you fancy doing so. There are some fantastic bars and restaurants to explore along this beach too. A couple of notable mentions are Sangria Restaurant Bar & Lounge and the Umbrellas Beach Bar.
Grand Etang Lake
Grand Etang lake is located in an old crater that once was a volcano. A truly breathtaking and unique experience that would be a pity to miss out on.
It's a great one for those who love to hike. However, don't worry if you don't enjoy hiking as you can simply enjoy the lake by standing still too!
Waterfalls
The waterfalls of Grenada are ones that are truly magical. These picturesque spots like the one shown in the picture below are perfect for that new profile picture on Facebook or Instagram.
A couple of worthwhile mentions for waterfalls to visit are the Royal Mount Carmel Waterfall. This is the highest waterfall that you'll find on the island.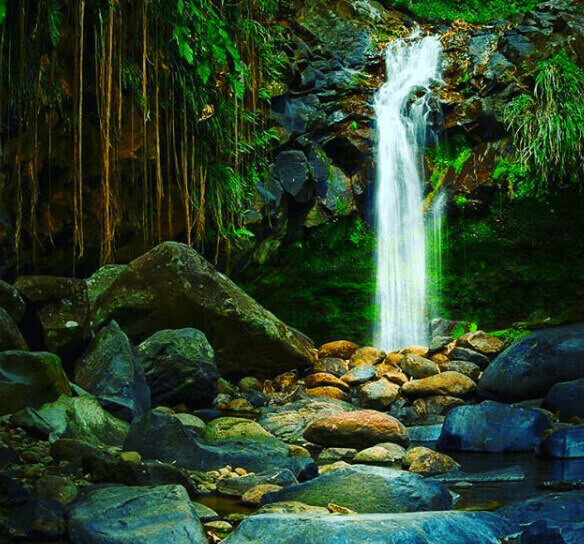 It's recommended you also visit Seven Sisters Waterfalls Grenada. A large waterfall that flows down the mountainside is perfect for swimming in the pool below it.
Underwater Sculpture Park
The Underwater Sculpture Park is a place in Grenada that is unlike anything you'll find in other parts of the world. If you enjoy exploring the ocean, then this underwater experience will be just the ticket for you.
These sculptures are around three to five meters below the surface of the water and were designed by Jason deCaires Taylor in 2007.
Grenada's Best Festivals
Grenada is one of many islands that make up the Windward Islands. Grenada itself is made up of two smaller islands Carriacou and Petite Martinique. There are several small islands that lie to the north and are part of the Grenadines. These are southwest of Saint Vincent and the Grenadines.
Within all of these places are a number of festivals that take place throughout the year. Here are some of the best that you should attend whilst you're there!
SpiceMas Festival
Grenada is responsible for producing many spices. From nutmeg to mace crops, the island has more to it than just its beauty.
The Spicemas is a cultural event that takes place during the second Monday and Tuesday in August every year.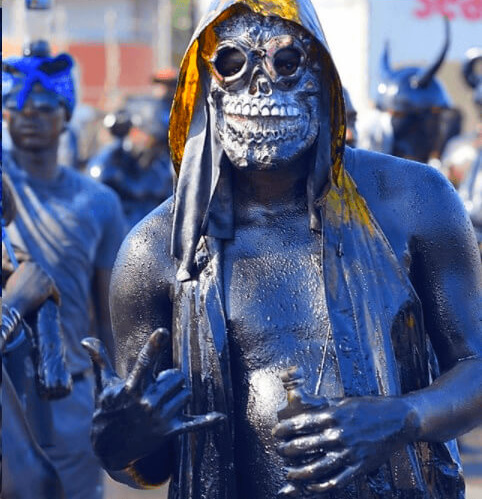 Grenada the Spice Island lives up to its name as the event celebrates the Caribbean heritage.
If you want the real local experience then you'll find it here. From a carnival of color to steel pan orchestras and beauty contestants, it has everything to show what Grenada has to offer.
Grenada Sailing Festival
The Caribbean is a wonderful place to enjoy a mixture of activities and events. As part of the Windward Islands, Grenada has its own sailing festival.
For those that like to get out onto the water, this is the perfect opportunity to observe an internationally famous event.
The event brings together acquaintances and friends from all over the world. You'll likely meet plenty of people as you enjoy the local rum and enjoy the talented bands that perform during the long weekend.
Typically the event has over 350 sailors from 20 different countries.
Grenada Carriacou Carnival
It's safe to say that living in Grenada Carriacou also has its fair share of activity. With the Carriacou festival of course!
So what should you expect from this festival? A carnival! There's a lot of street dancing that happens during this festival. Not only that but you'll get to enjoy cultural traditions and interact with the locals of the island.
Shakespeare Mas
The Shakespeare Mas is a day where costumed performers will compete to recite Shakespeare's words - a great one if you love theatre!
When you visit Grenada's island, you get plenty of opportunities to discover the culture from its spices to its tropical pockets of paradise. Whether you head south, northeast or west, you'll find something to discover on this island.
Grenada Resorts
There are some truly wonderful resorts to stay in when traveling to Grenada. As part of the Windward islands, here are a couple that we would suggest.
Royalton Grenada All Inclusive
Royalton Grenada is an all-inclusive hotel located on two white-sand beaches. If you ever needed a postcard picture setting then this is it. With ocean views and a range of water sports to get involved with, this hotel has everything you'll need for a jam-packed stay in the Caribbean.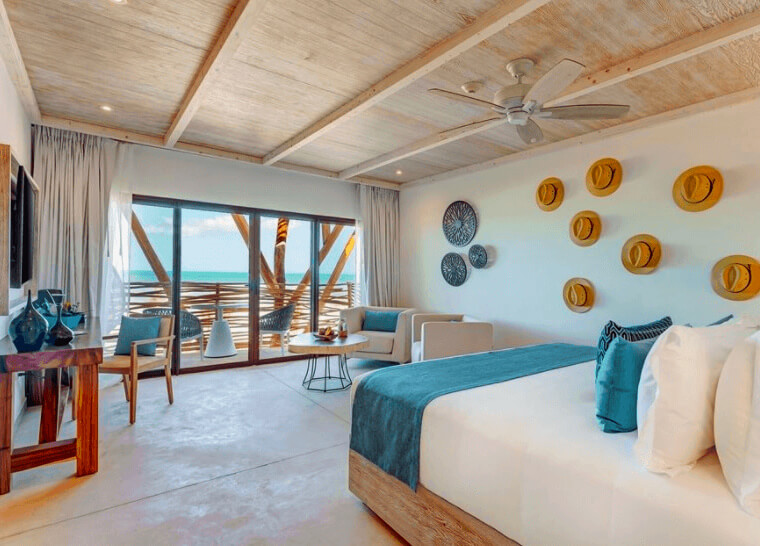 Spice Island Beach Resort All Inclusive
Described as a private oasis, Spice Island Beach Resort brings the indoors and outdoors together through its private plunge pools, stylish furnishings, and open-air garden terraces.
It's a great one for spending some alone time with your significant other or escaping the hustle and bustle of life on your own!
Mount Cinnamon Grenada
Mount Cinnamon Grenada offers a paradise with all the amenities and services you'd need for your time away. Get the true essence of Caribbean beach life with this accommodation.
Whether you fancy paddle boarding, sailing, or a beachside massage, all of it can be provided at Mount Cinnamon Grenada.
FAQs
Is the Island of Grenada safe?
US Department of State has given Grenada a level-one rating - the lowest on their scale. Grenada is safer than many US cities - for peace of mind, however, you should be mindful of your surroundings and avoid isolated areas.
Why is Grenada popular with tourists?
Grenada is a popular spot for tourists due to its beautiful surroundings and as an island that's buzzing with activity. Explore Saint George's as the capital city of Grenada and take a walk down its picturesque city harbor.
Explore the Caribbean in the best way when you visit Grenada as a tourist.
What is the national language of Grenada?
The national language of Grenada is English and it's likely why many tourists from primarily English-speaking countries choose to visit this island.
What time of year is best for visiting Grenada?
The best time of the year for visiting this island would be in December. Peak season is between mid-December and mid-April. It offers the least rainfall, making it a more picture-perfect vacation to make all your friends and family jealous of.
MORE PLACES TO GO ON VACATION
Caribbean and Mexico Destinations
Antigua and Barbuda
Aruba
Bahamas
Barbados
Belize
Bermuda
Bonaire
Cabo San Lucas
Cancun Mexico
Cayman Islands
Costa Rica
Curacao
Dominican Republic
Grenada
Jamaica
Puerto Rico
Puerto Vallarta
St Kitts and Nevis
St Lucia
St Martin
St Thomas Virgin Islands
Turks and Caicos Islands

Pacific Island Destinations
Australia
Bali
Big Island Hawaii
Bora Bora
Fiji
Kauai
Maui
Moorea
New Zealand
Oahu
Tahiti Village
Places to Go on Vacation