Are you ready to plan a visit to see the highest mountain in North America? Denali National Park encompasses more than six MILLION acres of pristine and breathtaking wilderness (including the awe-inspiring Mount McKinley), providing you with some of the best scenery and wildlife anywhere in the world. Mount McKinley, stands firm at 20,320 feet above sea level. This mountain is so tall it creates its own weather, so it is not uncommon for the mountain to be entirely invisible behind a blanket of clouds.
Be sure to plan for anything. The weather can change at any second. You never know when you will walk or drive around a bend and come upon a moose or a bear. You many encounter bushwhacking, stream crosses, or lush blueberry patches along your self-made trail. If you are visiting Denali in the summer (as most of you probably are), don't forget that Alaska experiences longer daylight hours than many other places in the world. The sun only goes down for a few hours at night, so you can actually hike in the light of the sun late into the evening hours or get a very early start in the morning.
Denali National Park is located approximately 240 miles north of Anchorage via the George Parks Highway. Most people access Denali from this direction, but you can also travel 120 miles south of Fairbanks to reach the Park Entrance.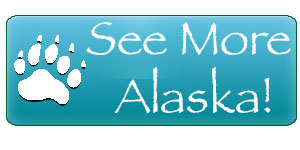 ---