Costa Rica Beaches

Click to Call
Costa Rica, meaning "Rich Coast", certainly lives up to its name. With its famous beaches, volcanoes, and wildlife, it's the perfect destination for travelers looking to relax in the sun, soak up the beautiful scenery, and enjoy great food.
The white sand beaches make Costa Rica an obvious attraction to any beach lover, but it's also home to rainforests, reefs, and swamps, making it a unique location for exploration. So whether you're a beach bum, surfer, or wildlife enthusiast, you're sure to find the perfect destination for your next vacation among some of the best beaches in Costa Rica.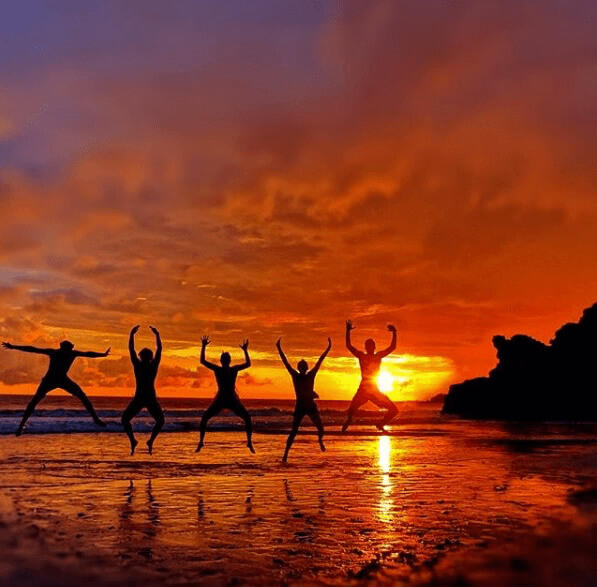 Costa Rica's Natural Beauty
Home to five percent of the world's biodiversity, beaches in Costa Rica will blow you away with their natural beauty. From turtles and scarlet macaws, to the turquoise waters of the white sand beaches, it's a paradise.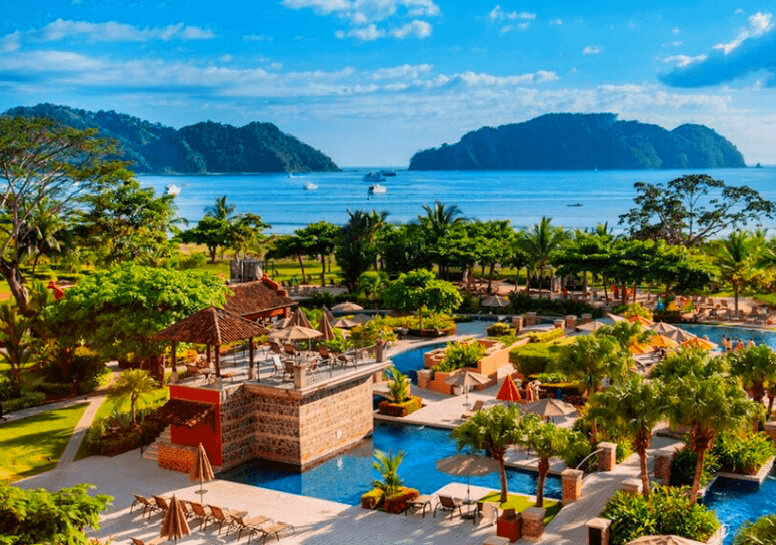 National parks
With 27 national parks, there's no wonder why Costa Rica is such a popular destination.
One of the most beautiful is Manuel Antonio National Park on the Pacific coast, not far from the country's capital, San Jose. Manuel Antonio Park has four beaches including Manuel Antonio Beach and Playa Espadilla. These light beaches are popular destinations for surfing, snorkeling, swimming, and relaxing.
Monkeys and sloths are the most notable inhabitants, as well as iguanas, lizards, and a vast variety of birds, like toucans and parakeets. Taking a guided tour is a great way to introduce yourself to the wildlife.
Marino Ballena National Park is worth noting too, it's named after the humpback whales that migrate there each year. At the right time, you might find baby sea turtles making their way out to sea on the Costa Rica Playa.
Volcanos
There are currently 6 active and 61 inactive volcanoes, all of which offer unique adventures. Take a scenic hike, explore the local wildlife, go on a guided tour, and try waterfall rappelling, rafting, and mountain biking.
One of the most popular volcanoes is the Arenal volcano in the stunning Arenal National Park, also home to the Chato volcano with its emerald lagoon.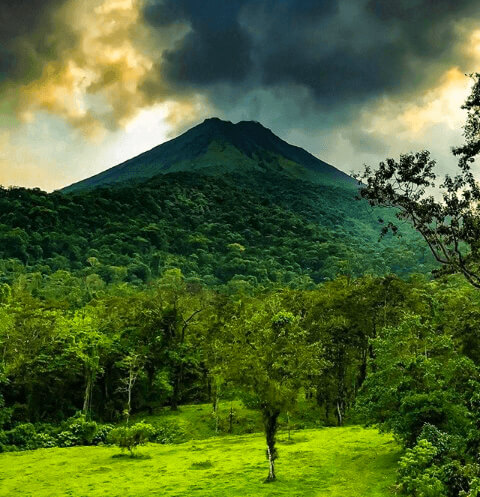 Wildlife
Costa Rica is home to over 500,000 species of animals unique to Central America. You can find howler monkeys and jaguars in the forests, sea turtles, dolphins, and migrating whales in the waters, and more than a hundred different bird species in the sky.
A paradise for birdwatchers, Costa Rica is the hummingbird capital of the world and is home to over 50 species of birds. A great way to see them is to visit the tranquil La Paz Waterfall Gardens, which features 5 magical waterfalls and the country's largest animal sanctuary. You can see 26 species of hummingbird there along with butterflies, monkeys, frogs, and snakes.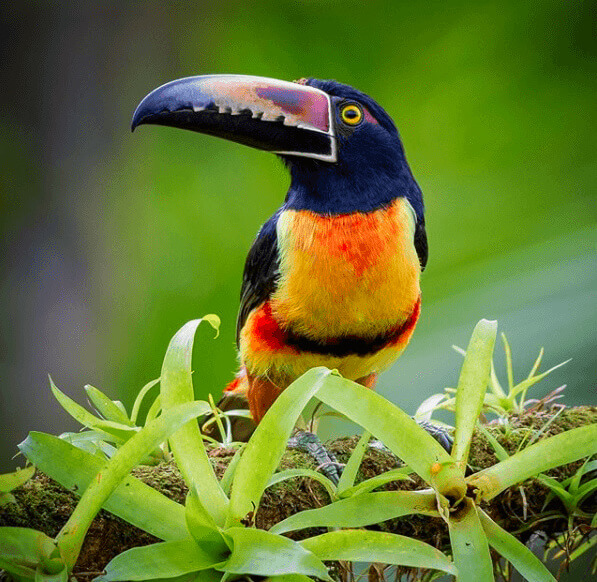 Coral Reefs
There are reefs on both coasts, with the most developed on the Atlantic Coast. Isla del Coco is said to be one of Costa Rica's best diving spots and has an extremely diverse coral reef that boasts a healthy ecosystem of exotic fish.
Another incredible location is the Cahuita National Park on the Caribbean Coast. It protects a large coral reef and is great for snorkeling. You'll get a chance to see over 35 species of coral, like sea fans, elkhorn, and Favia coral, as well as the hundreds of fish that they house.
Best Beaches in Costa Rica
Because of its versatility, people of all ages and interests can find the perfect vacation in this beautiful country, from Santa Teresa on the Nicoya Peninsula to Uvita Beach in Puntarenas. We've picked a handful of the best beaches in Costa Rica, so take a look and see which one calls to you.
Tamarindo Beach
A popular destination for families, Tamarindo is a fishing village that boasts excellent accommodation, restaurants, shops, and a beautiful beach. It's a great place to stay if you're looking for a vibrant beach town where you can swim, eat good food, and socialize. It's also an excellent surfing destination.
Conchal Beach
This stunning beach in Costa Rica has a dry forest, and although it's just 20 minutes from Tamarindo beach, Conchal beach is a great destination for a relaxing beach vacation. Its turquoise water and white sand give Playa Conchal a picture-perfect look that appeals to every beachgoer.
It's situated near Flamingo beach, a fairly underdeveloped area that sits on a hillside overlooking the coast, making Playa Conchal a good place to visit from neighboring spots.
Punta Uva Beach
Punta Uva is a beach town on the Caribbean coastline and although it's situated near Puerto Viejo, it's a quiet area with two of the best beaches in Costa Rica, Playa Punta Uva and Playa Arrecife. It's an ideal destination if you're looking for walks down a dirt road, snorkeling in the reef, and relaxing under a palm tree.
Food and Drink
Because it's such a diverse place, you'll find food from various cultures in Costa Rica, but you can't visit without trying the local delicacies.
Popular dishes
Pejibayes (peach palm) is a savory cooked fruit that's like a sweet potato. Try it as a soup or served on its own with mayonnaise.
A seafood cocktail similar to ceviche, Vuelve a la Vida is said to cure hangovers, perfect for the morning after a night of cold beers in the Costa Rican heat.
Arreglados is a sandwich with masa (corn) flour pastry instead of bread. Popular fillings are meats, cheese, lettuce, tomatoes, and sweet mustard.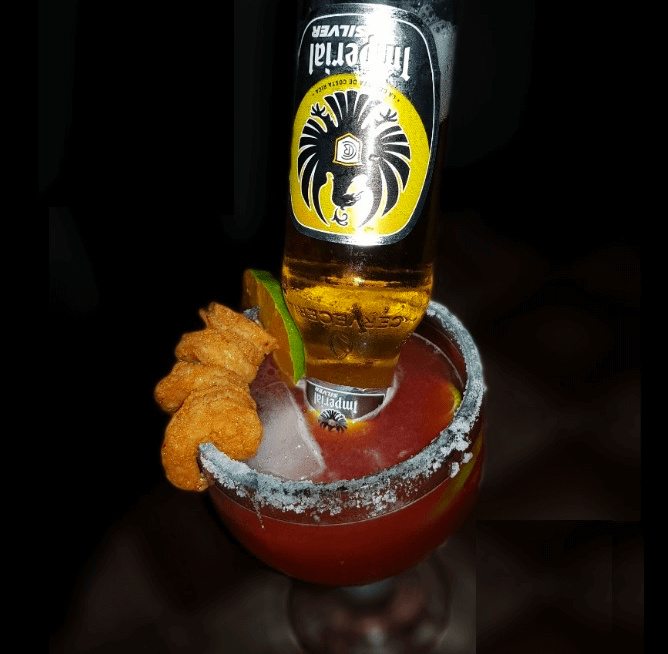 Coffee
Home to some of the best coffee in the world, there's no wonder why the country is a java lovers paradise. It's no surprise how either, its climate is perfect for coffee farming and it's illegal to plant low-quality beans!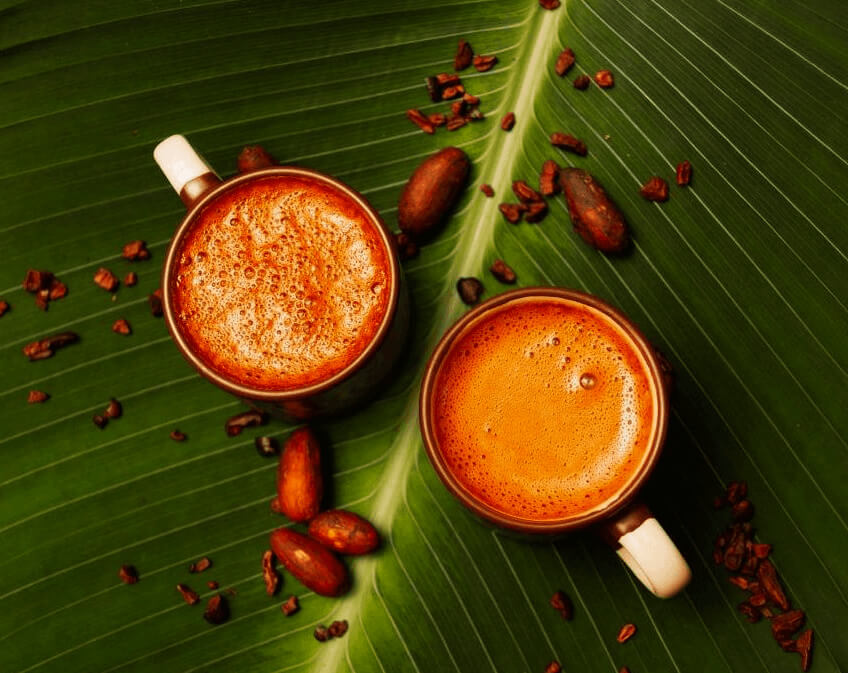 FAQs
Is the Costa Rica sea safe to swim in?
Long exposed beaches have big waves, making them great for surfing but less suited to swimming, however, if you look for bays that are more protected from the currents, like Biesanz Beach in Manuel Antonio, you will find safer swimming conditions.
Does Costa Rica have a white sand beach?
There are white beaches all over Costa Rica, but you're more likely to find one on the North Pacific and Caribbean coastlines, like Santa Teresa beach on the Nicoya Peninsula.
What is the best time of year to visit Costa Rica?
Visit during the dry season (December to April), for endless sun and dry weather, but if you like the rain, you might save money by visiting when prices are low in the rain season.
MORE PLACES TO GO ON VACATION
Caribbean and Mexico Destinations
Antigua and Barbuda
Aruba
Bahamas
Barbados
Belize
Bermuda
Bonaire
Cabo San Lucas
Cancun Mexico
Cayman Islands
Costa Rica
Curacao
Dominican Republic
Grenada
Jamaica
Puerto Rico
Puerto Vallarta
St Kitts and Nevis
St Lucia
St Martin
St Thomas Virgin Islands
Turks and Caicos Islands

Pacific Island Destinations
Australia
Bali
Big Island Hawaii
Bora Bora
Fiji
Kauai
Maui
Moorea
New Zealand
Oahu
Tahiti Village
Places to Go on Vacation