The Roundtrip Cruise - Winter
on Coastal Ships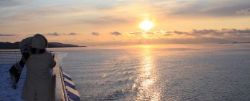 The Roundtrip Cruise
Norway's appeal is remarkably simple: It is one of the most beautiful countries on Earth. Join a 12-day adventure that is unmistakably Norwegian, across almost 2,500 nautical miles of spectacular coastal scenery. Along the route, you can choose to participate in more than 90 excursions, and take part in hikes and activities led by our onboard expedition teams.
Discover Norway's entire coastal route with 34 ports of call, sailing past more than 100 fjords and 1,000 mountains
Cross the Arctic Circle and search for the northern lights in winter, or enjoy 24 hours of daylight and the midnight sun in summer
Stay active by joining our exciting and adventurous sea- and land-based excursions
Onboard expedition teams enhance your experience with exciting activities, and interpret the cultural and natural treasures you see during your cruise

Why Cruise with Hurtigruten
At Hurtigruten we give you the opportunity to travel with meaning. Building on our explorer heritage dating back to 1893, our explorations are grounded in the likings of people who value learning and personal growth over luxury. We are world leader in sustainable explorer travels in Polar Regions. We offer unique experiences and impart knowledge in a way that leaves the smallest environmental footprint possible.
Our unique heritage, combined with
...